What's the Difference Between Water Extraction and Water Mitigation?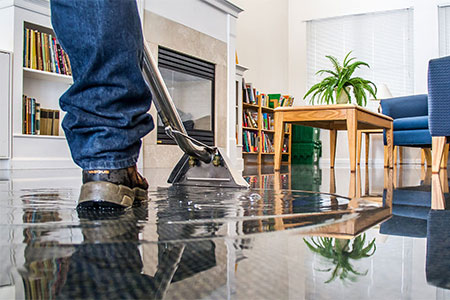 The water damage restoration process can be confusing, especially for those who aren't acquainted with the terminology or know what procedures are included. For instance, you might wonder what the difference is between water extraction and water mitigation. They both serve different purposes, yet each is important when dealing with water damage.
The question is, do you know how or why they're used? Knowing about these two methods might save time if you have to deal with potential disasters affecting your Colorado property down the road.
So let's dive right into them!
What Is Water Mitigation?
Water mitigation is taking steps to prevent water damage in the future. Examples of water mitigation are; improving structural conditions, adding exterior drainage like downspouts and gutters, leveling your yard, and installing a sump pump to help remove groundwater before it intrudes into your home.
Water mitigation also occurs after a disaster. This is when a disaster restoration company does the following; removes unsalvageable contents and/or parts of a structure (drywall, flooring, etc.), cleans the affected areas, applies disinfecting agents, deodorizes and dries the structure.
What Are the Benefits of Water Mitigation?
Before a disaster, mitigation is not only a great way to "waterproof" your home, but it can help save you from expensive restoration services down the line. And if water mitigation actions are taken soon enough, they might even prevent any damage from ever happening. That's the goal of water mitigation – stopping water from entering your home in the first place.
What Is Water Extraction?
Water extraction is removing water from property that's already been damaged. It's used when mitigation can't be implemented due to the urgency of a situation. When it's needed, water damage restoration professionals use extraction tools such as powerful truck-mounted vacuums, pumps, and wet/dry vacs to remove standing water.
But this work should only be done by professionals. For instance, there are times when removing water too quickly can add to the damage, especially after a flood. Standing water on the inside of a basement or crawlspace exerts pressure on the walls and/or foundation of the structure. If the water table of the surrounding ground has risen along with the interior water, equal pressure is pushed toward the inside of the structure. This pressure is called hydrostatic pressure. Removing all of the interior water too quickly, while the pressure still exists outside, can result in structural failure or damage to the walls.
What Are the Benefits of Water Extraction?
The longer water sits, the more contaminated it gets, the more damage it causes, and the more likely it is that mold will start to grow. So, quick water extraction by a disaster restoration company with professional equipment helps to save your property. As an example, a typical truck-mounted vacuum sucks up about 25 gallons of water per minute, while the best dehumidifier only removes about 30 gallons a day.
Water Damage Requires Both Mitigation and Extraction
In water damage restoration, both water mitigation AND water extraction are essential. Water mitigation stops water from entering a property, while water extraction removes water that shouldn't have been there in the first place.
Usually, water damage restoration professionals are called in emergency situations and will need to use water extraction first to remove standing water. Afterward, they'll employ mitigation efforts to stop water from coming into the property in the future.
If you're dealing with water damage that entails mitigation or extraction, call at 719-299-3887 or contact Cyclone Kleen Up immediately. We're available 24/7 to provide emergency water damage mitigation and extraction services for your property in Pueblo, Leadville, or surrounding cities in Colorado.