Different Reasons for Commercial Water Damage
When water damage impacts your business, the problem could cost a lot of money in repair costs as well as downtime for the company. What are the most common causes of water damage in commercial establishments? How can these be prevented?
Water damage sometimes occurs in businesses due to the lack of proper maintenance procedures. Although accidents also occur, it is best if all equipment in business be placed on a preventive maintenance plan to ensure that the possibility of breakdowns and subsequent water damage is kept to a minimum.
Why Commercial Water Damage Happens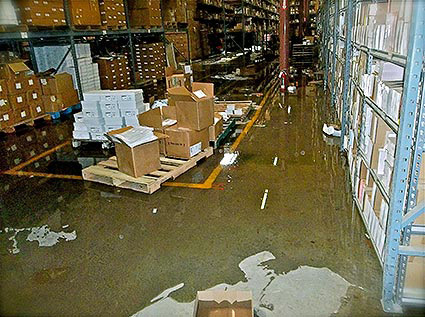 Sprinkler system malfunction – Older buildings with outdated sprinkler systems are more prone to sprinkler malfunctions than newer buildings with modern systems. If you are leasing space in an older building, be wary of potential malfunctions for fire safety reasons.
Malfunctioning appliances – Coffee shops, restaurants, and offices that have appliances in their break rooms, or water fountains in the hallway, can experience water damages when the appliances malfunction.
Broken and corroded pipes – Another problem that may trigger water damage is broken or corroded pipes that leak. This can also happen when pipes in your building are not properly winterized and burst after a particularly cold day.
Backed up sewer system – Improper items often are flushed down the toilet in company bathrooms, increasing the chance that your sewer system could get clogged and create a toilet overflow.
What to Do In Case of Water Damage Emergencies
When your business in Colorado sustains water damage, the company to contact to fix the problem is Cyclone Kleenup. We are a company that specializes in water damage restoration, as well as fire damage restoration and storm damage restoration.
We have a 24-hour emergency team on standby to help handle any water damage emergencies you might have. All you need to do to get the help you need when you need it is to contact us at 719-299-3887 and help will be on its way.