Don't Play Around with Floods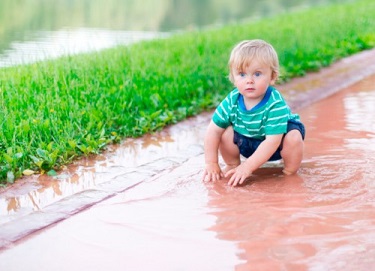 Rain is essential for life. Yet sometimes it's can become very dangerous, as when heavy microbursts spring up or we have several rainy days in a row. When that happens, parts of Central Colorado can end up flooded.
When floods occur, we may see images of people walking through them. Many times, they have no choice as they're trying to escape to higher ground. But sometimes we see pictures or videos of kids, even adults, playing in floodwaters. There is something tempting about playing in water when it's in places it's usually never seen. But here are some serious reasons why you never want to walk (or play) in floodwaters:
Creature features – some of your playmates may include poisonous snakes, bugs, leeches, disease-carrying rodents and decaying animal carcasses.
Shock value – a live power line could give way (which is not unusual in disaster areas) and land in the water you're standing in. No description is necessary.
Junk in the funk – flood waters can carry and/or hide all sorts of debris that can harm you – broken glass, torn metal, splintered wood, etc.
The force is not with you – it only takes 6 inches of rapidly moving floodwaters to knock you off your feet and carry you to an uncertain fate.
Contamination abounds – many floods cause sewer overflows, releasing dangerous chemical waste and harmful microbes. These can make you very ill, especially if you swallow any or it comes in contact with your eyes, nose or open sores.
They suck – when flood waters cover storm drains or sink holes, powerful whirlpools can form that may not be visible from above. They can pull you under and won't let you go.
If you must walk in flood water (standing only – never go into moving water unless you've got a rope attached and you're with a fireman/EMT/etc.), then take all precautions. Wear protective clothing and where your skin or clothing touches the water, wash as soon as possible. Also make sure you keep up with all vaccinations.
The dangers listed above can also enter your home during flooding. And even if the flooding comes from an inside source, some of these hazards still exist. So instead of trying to handle such a catastrophe yourself, contact the professionals at Cyclone Kleen Up who are trained for such emergencies. We use powerful pumps and truck-mounted vacuum units to quickly remove hundreds or thousands of gallons of water from your property. Then we'll dry, dehumidify, clean, repair and return your property to pre-loss condition.