Furnace Fire Facts & Maintenance
The first time you turned on your heat this season, you may have anticipated two things; the warmth that would stop your feet from freezing, and the assurance that the unit would work for another season. But to guarantee that those two things would happen, your unit should be regularly maintained. Doing so not only confirms you'll be warm this winter but can also keep you safe from dangerous and destructive fires.
Fire Hazards Near Your Furnace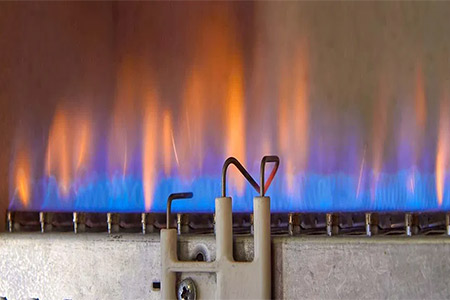 A furnace is usually installed in a utility closest, garage, or basement, places that are also often used as storage areas. Because of that, many items may end up too close to the heating equipment, causing a fire hazard. To keep this from happening, there should be a 6' radius clear zone around your heating unit. This is especially important for flammable items such as:
Rags
Clothing
Paper
Cleaning chemicals
Gasoline
Paint
Kerosene
Fire Hazards in Your Furnace
Don't panic! Your heating unit is safe - IF it's well maintained. But according to the National Fire Protection Association, heating equipment fires are the second leading cause of home fires, and nearly half of the fires in Central Colorado that occur in December, January, and February.
Here are ways to decrease the odds that your heater will experience a fire:
Change the air filter every three months. When it gets too dirty, air flow is restricted, causing your furnace to not only work less efficiently, but may eventually cause the motor to overheat.
Have professional maintenance done on your HVAC unit yearly. They'll check for and fix items such as faulty parts or bad wiring, which can cause the voltage to go too high. They'll also check the bearings. When they're tight, worn or dry, motor bearings can catch heat and eventually catch fire.
Fire Hazards Due to Gas Leaks
If you use gas to heat your home, a gas leak could occur. This might happen if gas lines or certain furnace components are damaged or faulty. Gas line safety is critical to fire safety, as gas leaks cause natural gas to build up in the home and could cause a fire or explosion. Throughout the cold season, be aware of the signs of a gas leak and call for furnace repair immediately if you experience:
The smell of sulfur or rotten eggs
High gas bills with no other explanation
Difficulty breathing
Drowsiness or fatigue
Nose bleeds
Dizziness
There's an old saying that you should hope for the best but plan for the worst. So, keep a fire extinguisher in your kitchen and near any heating equipment, and make sure each room has a working smoke detector. And if you do experience a fire, call Cyclone Kleen Up immediately to get you back on your feet quickly.