Get Paid for Saving the Planet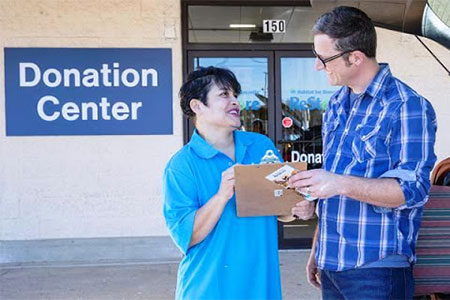 "Looks like a gut job." That's a phrase often heard on house buying/renovation TV shows, usually about a kitchen or bathroom. Sometimes it's hard to understand what they mean as they even talk about gutting nice looking cabinets and appliances, but there's no accounting for taste. But other times, it's obvious that everything must be replaced.
As a restoration contractor, we at Cyclone Kleen Up often run into the same situation. Many times the damage to cabinets, appliances and furniture is beyond repair and into the dumpster they go. And if it's an insurance job, then anything they deem to be unrestorable needs to be thrown away, because if the insurance company is paying for a replacement of an item, but the old item gets cleaned up and sold, that's called double dipping, which is unethical and can cause us to lose any future business with that company.
But what if you're just renovating and you wish to replace old cabinets and appliances that are still usable? Or what do you do with an appliance that has gone kaput? The following are some options you have other than trashing them.
Donate

Many charities would love to recycle your old appliances. Donating them keeps functional - and often desirable - items out of landfills. For appliances that still work, charities can sell them at a reduced price or can donate them to families in need.

All cabinets, furniture and appliances that are donated should be clean and in good working order. Many organizations will help find these a new home, including Habitat for Humanity, home salvage shops, and secondhand stores like The Salvation Army and Goodwill. And the donations made are tax deductible.

Sell

Many people are on the hunt for secondary kitchen cabinets, second-hand appliances and also parts for them. Making money on these items is definitely better than throwing them away. Take pictures of these units (while still installed) and advertise them on sites such as Craigslist, Kijiji or Facebook. They could also be taken to a consignment shop to get sold.

Scrap

There are a few places in the central Colorado area that will recycle your old appliances by turning them into scrap metal. If you're sentimental, it may be a sad way to see a trusty appliance go, but repurposing it still benefits the environment and your community! Typically, scrap metal dealers won't charge you for your donations, and some might even pay you!

Recycle

Check whether your Colorado county or town provides a recycling program. Some will pick up items for a fee, but sometimes for free. Some firms not only won't charge to pick up appliances but will also pay for them. For instance, Colorado Springs Utilities offers a $50 rebate for qualifying customers.

Urban Recycling is a Colorado Springs company that charges a nominal fee to recycle your old appliances. However, $10 apiece is a small price to pay for contributing to the environmental health of our beautiful state! And complete recycling is guaranteed. They offer scheduled pick-up appointments, or you can drop off bulk items at their convenient downtown Colorado Springs location.

Saving resources sends less trash to landfills which helps to reduce air and water pollution. Recycling and repurposing may be profitable, but more importantly, doing so is good stewardship of the earth – the ultimate payoff.