Water Damage Classifications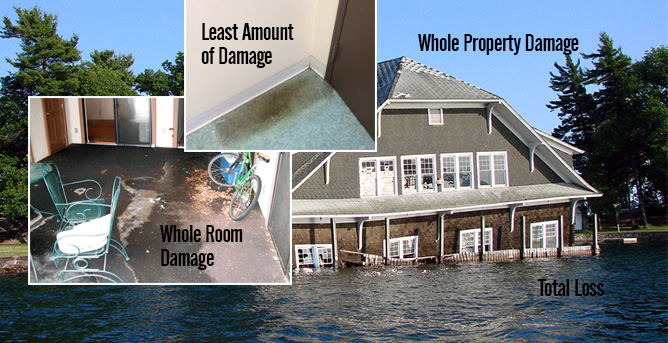 When dealing with water damage to your home and property, it's important to know the full extent of the damages and the cost of repairs. By doing so, you can accurately judge for yourself whether you want to handle some repairs on your own or you want to leave all the restoration work to the professionals.
Water damages come in four classifications. They are:
Class 1: Least Amount of Damage
Class 1 water damage is the best-case scenario. It means water has covered only a very small area and created only minimal damage. Any items affected by Class 1 water damage have absorbed only minor damages. Those repairs should be inexpensive.
Class 2: Whole Room Damage
Class 2 water damage means a single room in the house has experienced total water damage. The flooring, the carpets, the furniture and the personal possessions stored in the room have taken on a severe amount of water. This often is caused by indoor flooding due to a confined plumbing problem. The repairs and restoration efforts for Class 2 water damage can be costly, especially if fine furniture and electronics are involved.
Class 3: Whole Property Damage
Class 3 water damage is what happens when your entire home is exposed to water, from the basement to the attic. This can be caused by a ceiling collapse during a storm that exposes your home to the elements or an unattended burst pipe that flooded the entire premises. In this scenario, a professional restoration firm is needed as soon as possible because of mold and structural issues common to this class of water damage.
Class 4: Total Loss
This is the worst-case scenario. Class 4 water damage means that the entire property and the assets inside it have been completely compromised. Some parts of your property may still be standing, but it could easily collapse. Class 4 water damage is most common with tornados, hurricanes, floods and natural disasters.
By familiarizing yourself with these classifications, you will know what type of water damage you are dealing with in an emergency situation. Regardless of the type of damage you have, it's best to leave the repairs and restoration to those who are trained and equipped to do so. Contact Cyclone Kleen Up and get the very best in water damage restoration in the Central Colorado area. Simply call 719-299-3887 for a free estimate.