Leave Hoarding Cleanup to the Professionals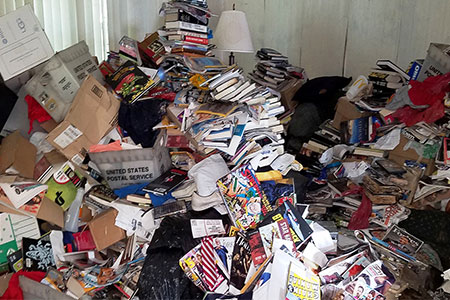 With the popularity of reality TV shows in recent years like Hoarders and American Pickers, it's easy to see that hoarding is a bigger problem than most of us ever thought about. When this is an issue with family or friends, we may feel the need to help them. But when cleaning up these homes, more is involved than just taking out the trash.
Most people who hoard on an extreme level have emotional and mental health problems. They are fiercely attached to their collections and may compromise their own safety and their relationships with others just to hold on to those items. But when the well-being of the home's occupants is in danger, cleaning up a hoarded home is necessary. And when you do, it's best to call in central Colorado area professionals who handle such cases regularly.
Hoarding Dangers
Here's a list of hazards that come with cleaning up a hoarder's home and why you shouldn't try to handle it yourself:
Fire - This is the main danger in a hoarded home because much of the clutter consists of flammable materials, such as boxes, magazines, old mail and paper trash. Fires may occur when these types of objects cover a heat vent or damaged wires. Moreover, clutter blocks residents from escaping from a fire and first responders may not be able to navigate a hoarded home to rescue the residents.
Injuries – These can occur due to falls or trips as there's very little room to walk. Piles in a hoarded home can reach as high as ceilings and so can collapse and cause injury. Someone may even get trapped under falling debris and contents.
Diseases – Pests like rats and cockroaches can infest a hoarded home, increasing the chance of infecting people with diseases from their droppings or bites. With animal hoarders, the prospect of disease gets even worse as owners fail to pick up after their pets. Sometimes those animals die but their bodies are never removed, which intensifies the sanitation problem.
Mold – Due to the lack of proper airflow in a home because of stacks of trash, mold may develop. Additionally, water damage from a clog or water leak - even a small one - mixed with organic material is the perfect recipe for mold growth. Hoarders also have difficulty throwing away food and plates of half-eaten food may sit out for days, weeks, or even months, resulting in more mold infestation. Mold can cause respiratory and other health problems, especially for those with allergies.
Air quality – All that clutter results in tons of dust, odors, and ammonia from decaying waste products. These can cause serious air quality issues in the hoarder's home, producing respiratory problems in both people and pets.
Structural integrity – Over time, hoarding can cause structural damage to the building itself due to the great weight and uneven distribution of too much stuff. Floors and load-bearing parts of a house, meant to support only a certain amount of weight, may buckle or even collapse under the strain.
Hoarding Clean-up Procedures
Another reason for not trying to clean up after a hoarder is that you likely lack the experience, expertise and resources of a professional cleaning company that can perform the job efficiently and safely. Here's how Cyclone Kleen Up tackles this difficult task:
We ensure safety – Our workers must wear protective suits (PPE), which include disposable gloves and face masks, to protect themselves against bacteria and diseases. We also keep a fire extinguisher and a first-aid kit on hand.
We stock all needed cleaning supplies – Everything from heavy duty tools, trash bags, boxes, buckets, universal cleaning agents, heavy duty disinfectants, etc.
We set up a staging area and dumpster – An open space, such as a yard, is used to temporarily place contents pulled from the home. A large dumpster is brought in to dispose of the debris.
We strategically declutter the home – When the staging area is ready, we begin in the room nearest the closest exit to be able to escape quickly in case of emergency. The trash and clutter from each room is removed from top to bottom.
We sort the contents – Colorado regulations are followed when handling items that can't go directly into the garbage (like paints or explosives). Then, trash and debris is bagged and placed in the dumpster. Salvageable items are sorted into items to keep and to donate.
We repair and clean the home – Once the entire structure is free of clutter, we assist with any needed repairs, including water, fire and mold damage. Meanwhile, all salvageable contents are cleaned and disinfected.
Contact Cyclone Kleen Up immediately at 719-299-3887 if you or a loved one suffers from the effects of hoarding and/or you need assistance cleaning out a hoarder's house. Using the latest cleaning and restoration tools and techniques, we're standing by 24/7 to return any property to a safe, clean, and orderly condition.