Preventing Basement Water Damage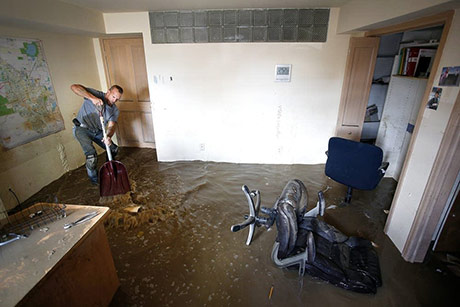 For homes that have a basement, the extra space is a welcome addition but it comes with the challenge of potential basement water damage. With the basement being the lowest point in your home, gravity will flood it quickly in emergency situations, creating water damage. Floods, sewage back-up, overflowing dishwashers, appliance leaks, and other similar disasters can cause water to flow to your basement and cause water damage.
To guard against those possibilities, you can take preventive measures that will save you time and money over the long haul. Here are a few things you can do:
Install a sump pump - What is a sump pump? It is a system that helps siphon water out of flooded basements and helps prevent water damage by doing so even before extensive flooding happens. A sump pump has a basin that is placed lower than the basement floor, allowing it to catch any water that may find its way into the basement. The pump in this device disposes of the water by siphoning all of it and releasing it away from the structure.
Check your pipes and boiler for leaks – Even when you have a sump pump installed, it also helps to check your boiler and pipes regularly for problems that can lead to water damage. Leaking or cracked pipes, damaged thermostats on boilers, and other similar problems can also lead to basement water damage if left unchecked.
Clean out your gutters regularly – Ensure that your gutters will not overflow when heavy rains happen. An overflowing gutter will cause water to flow like a waterfall over it instead of draining it towards the downspout and away from your home. When this happens, water can pool around your home and seep through the cracks to your basement.

Despite your best preventive efforts, you cannot stop the damages done by a storm or major flood. When you experience water damage at your home, you should get in touch with Cyclone Kleenup immediately. Aside from fire damage restoration and disaster restoration, we also specialize in water damage restoration for your home in the Pueblo & Colorado Springs, CO area.
We can help restore your basement to its original condition. Simply contact us online or give us a call at 719-299-3887 today and we will be happy to help you with your basement water damage problems.