The Dos and Don'ts of Fire Damage Cleanup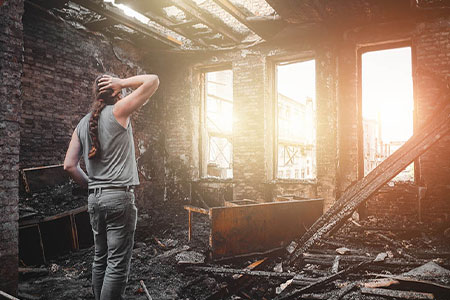 Experiencing a fire in your Colorado home or business can be overwhelming, to say the least. But it's vital that fire damage cleanup and the restoration process is begun as quickly as possible in order to get your life back to normal. But do not attempt to do this on your own! You'll need to rely on experts to handle the situation. There are specific steps the professionals know and will follow to restore your property and contents to their pre-loss condition.
Because of the seriousness of these situations, here is a list of dos and don'ts when it comes to fire damage restoration and smoke cleanup:
The Dos
Make safety the priority. Even if the situation looks safe and clear to you, don't enter a burned structure until a professional has informed you it's safe to do so. Not only may the building be unstable, but fires can start again — even after they seem to be extinguished.
Document, document, document. Take photos of the fire damage, save receipts, take notes of conversations and keep all email correspondence. These actions help when dealing with your insurance company.
Call your insurance agent to initiate a fire damage assessment.
Call your local restoration company, Cyclone Kleen Up , to help with fire damage cleanup and repair.
Limit movements inside the structure to keep soot particles from spreading.
Change furnace filters.
Cover dry furniture and upholstery with sheets.
Weather permitting, open windows and doors for ventilation.
Remove clothing and soft contents from the property and have it cleaned by Cyclone Kleen Up professional fire damage restoration cleaners, not just a dry cleaner.
Throw away all food and drink left after the fire.
The Don'ts
Enter a building before the fire department gives you the green light, even if it looks safe.
Start cleaning residue from walls, ceilings, and other surfaces. Everything has to be assessed by your insurer first.
Walk on carpets or touch furnishings impacted by smoke residues or debris until they're professionally cleaned.
Eat food, including canned goods, that were exposed to heat or fire.
Turn on utilities until professionally checked.
Turn on, clean, or use any electronic equipment until professionally checked.
Smoke and soot residue left behind after fire damage can cause severe health problems if not handled correctly. Only trained experts with professional equipment that understand the complicated chemical interactions involved with soot and fire can ensure your fire damage restoration is done safely and thoroughly. The best thing to do is get in touch with Cyclone Kleen Up as soon as possible. We will assess your property and come up with a fire damage cleanup plan that includes:
Securing your property to prevent further damage
Removing damaged and unsalvageable items
Cleaning, sanitizing, and deodorizing of your property and belongings
Repairing or replacing all fire and smoke damaged areas of the structure
Our main goal at Cyclone Kleen Up is to restore your Colorado property to pre-loss or better condition. As a locally owned and operated company, providing the best possible customer service is our business.