The Top 10 Ways to Avoid Fires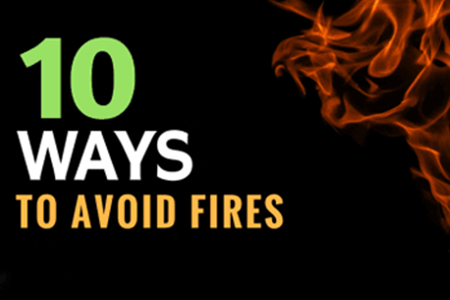 Although home and business fires in in Pueblo & Colorado Springs will never be totally eradicated, we prefer that you personally never have to experience one! If you do,click here for some advice about what you can do before and after one strikes.
To increase the odds that you'll stay safe, consider these Top 10 causes of fire. Use this information to plan how to make your home or business a safer place:
Cooking: Avoid splattering grease, never leave kitchens unattended and keep flammable materials away from heat sources.
Heating Equipment: Have your furnace checked regularly and keep portable heaters away from combustibles.
Smoking: If you smoke in or near the house, always make sure the cigarette butt is fully put out and make the bedroom off-limits to smoking.
Electricity: Look out for frayed cords, the overuse of extension cords and overloaded outlets, and don't run electrical wires under rugs or heavy furniture.
Candles: Never leave them unattended and keep them out of the reach of children or pets.
Children: Keep them away from matches and lighters to suppress any curiosity they may have about what happens when different items burn.
Inadequate wiring: It's often found in older homes and apartments. Have a professional electrician check yours.
Flammable Liquids: Keep fuels, solvents, cleaning agents, thinners, adhesives, and paints away from heat sources.
Holiday Decor: Keep your Christmas tree well-watered and away from heat sources. Check decorative lights for damage and never place candles on or near Christmas trees.
Grills: Keep them away from your home, deck rails, tablecloths and tree limbs. And never use them indoors, including your garage.
Fires devastate structures of all kinds and cause damage in numerous ways. Not only is fire destructive, but it also leaves behind lingering and pervasive odors, not to mention extensive water damage that results from the firefighter's efforts to extinguish the flames.
The professionals at Cyclone Kleen Up of Pueblo & Colorado Springs have the specialized training, equipment and experience to mitigate any disaster. Besides the easily accessible areas, we also examine wall cavities, duct work, crawl spaces and plumbing chases to establish whether they also suffered any smoke or fire damage. We ensure that all fire damage is cleaned, repaired, or removed and leave your home or business in pre-loss condition or better.