What Do Our Core Values Mean for You?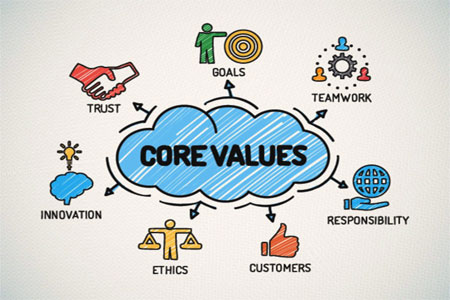 It's a term that's been bandied about, but what exactly are "core values"?
Core values are the cornerstone beliefs of a person or organization. They represent a company's heart. These guiding principles dictate behavior and can help people understand the difference between right and wrong. Core values also help companies to assess whether they're on the right path, meeting their customer's needs, and fulfilling their goals.
Here at Cyclone Kleen Up we pride ourselves on living up to our core values as a locally owned Colorado company and as a team. We believe in the following 6 key values that characterize our company and help us to stand out in the community:
Growth – Size matters, but only if it is accomplished through knowledge, excellence, innovation and continuous improvement every day - at every level./li>
Integrity- Do what's right and fair. Our relationships with customers, suppliers and each other are based upon honesty, trust, and mutual respect. We do what we say we will do and treat all with respect.
Being the Best - Persistently strive for excellence in all we do. We adapt the newest technology and use the highest quality products, thus adding value to the services we offer our customers. As a team, we work together to meet the needs of our customers and to help the company be successful.
Leadership- Provide strong, supportive management teams who embrace and drive change. By example promote honestly, integrity, enthusiasm, creativity, teamwork, excellence and empowerment of individuals.
Customer Service - Achieve total customer satisfaction by meeting every requirement of every customer. This is more than satisfaction with our products and service. It also includes communication, billing, marketing, product availability and countless other interactions with customers.
Teamwork - Be reliable, honest, supportive of each other's efforts, enthusiastic and positive. Value ideas over hierarchy. Communicate openly and face challenges optimistically to achieve our common goal of being the best. Be accountable, deliver on promises and strive to exceed expectations.
We recognize that our central Colorado customers are the reason for our success and we're committed to listen and respond positively to their needs. In fact, all our decisions are based on what's best for our customer. By adhering to the above values, Cyclone Kleen Up strives to create a company that is not only a great one to work for, but also one that will tirelessly work for you.