Board Up Service throughout Pueblo & Colorado Springs
Disasters like storms and fires never come with a warning and the damages they cause to your house or building are catastrophic. Therefore, starting the restoration process needs to be done as quickly as possible. However, in some cases, the damages are so severe that restoring them in a short period of time may not be possible. Consequently, your property stays exposed to the weather. If another disaster occurs due to the weather, the restoration will be very difficult to be done not to mention the amount of expense you'll have to pay. On top of that, a disaster-damaged home or office is always the center of attention to thieves and vandals. In such a situation, it is in your best interest to have your property boarded up and safeguard it from both weather and vandals.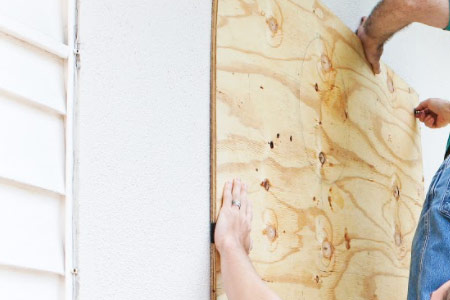 At Cyclone Kleen Up, along with restoring your residential or commercial property, we provide emergency board-up services in Leadville, Pueblo, Colorado Springs, and other cities throughout our Colorado service area. We are your local restoration company providing help for damage emergencies 24/7 for more than thirty years.
We offer-
From assessing the damage to filing insurance claims we assist you in every step.
We are in the restoration business for more than three decades.
We provide a thorough inspection and estimate.
We provide a 24-hours emergency recovery service.
Within an hour our recovery team inspects your damage and provides the required service.
Let Cyclone Be Your Professional Emergency Board Up Company
If your home or office has sustained structural damage due to fire or storm, rely on the experts at Cyclone Kleen Up to board it up and restore it. Within ONE HOUR, your damage will be assessed by our recovery team, and immediately required services will be provided to keep your property safe and protected. If you have any queries about us or want to schedule your cleanup service call us at 719-299-3887 or contact us online.