Fire & Water Damage Restoration in Lone Tree, CO
Alleviating losses is a homeowner's first priority after a fire or water damage event. One of the key factors in successful mitigation of disaster-inflicted damage is the efficiency of action: calling in a reliable restoration company to start working on the property ASAP can mean the difference between reconstruction and returning your home to its original condition.
Cyclone Kleen Up answers the call of Coloradans living in Lone Tree and its surrounding communities as the premier restoration company in central Colorado.
Cyclone Kleen Up: 31 Years of Restoration Excellence
With more than three decades of experience helping families in Lone Tree recover from fire and water damage events, Cyclone Kleen Up is indisputably central Colorado's restoration specialists. Beyond fire and water damage, we also remediate storm and flood-stricken properties, perform asbestos testing and remediation, and are ASHE members certified in infectious disease control. That allows us to work in hospitals and medical facilities where the threat of biohazard contamination stops other restoration crews in their tracks.
Our services are available 24/7 because we understand that disaster can strike at any time, and anywhere. When it does, call Cyclone Kleen Up in Lone Tree today for restoration and recovery services from responsible professionals who work with the most trusted insurance companies.
Disaster Restoration & Remediation in Lone Tree, Colorado
We also do Trauma Cleanup, Commercial Restoration, and Construction Services.
Contact Cyclone Kleen Up Today
When disaster strikes your home or office in Lone Tree, Colorado, it is time to Contact Cyclone Kleen Up for the best remediation services in Central Colorado. Contact us online or give us a call at 719-299-3887 when you are in need of any of our restoration or general contracting services.
Blogs related to Lone Tree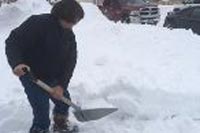 Snow Removal in Leadville, Colorado | Cyclone Kleen Up
Cyclone Kleen Up helps Leadville, CO residents with snow removal during winter storm.