Water Damaged Drywall Restoration Throughout Colorado Springs, CO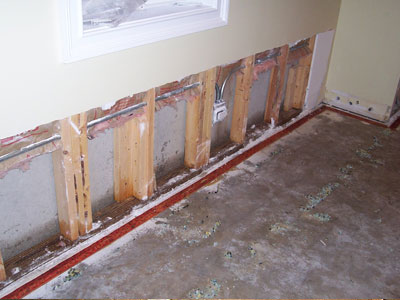 Let it be a pipe rupture, basement flooding, overflowing fixtures, appliance overflow, or any other water-related incident, your home and especially the drywall gets affected easily. Though drywall is pretty sturdy by nature, when it's exposed to water for a long time it gets damaged such as losing its structural integrity, becoming soft and weak, turning into the breeding ground for mold, and so on. The amount of its damage and whether you can save it is directly linked to how long drywall is exposed to water.
If your drywall is showing any sign of bulging or sagging, if it feels wet and/or mushy to the touch and has remained wet for longer than 48 hours, your drywall is at risk of growing mold. So it's very important to act swiftly whenever the drywall is wet. Call for a professional to assess the condition of your drywall and suggest to you the required steps to be taken.
At Cyclone Kleen Up, we offer water-damaged drywall restoration services. If mold has already started to grow do not worry we can help you with mold remediation as well. We are your local, certified, insured, and fully equipped professional restoration company. We are available 24/7 in Leadville, Pueblo, Colorado Springs, and other cities throughout our Colorado service area. Simply give us a call at 719-299-3887 or contact us online for more information.
Why Choose Cyclone Kleen Up to Restore Your Colorado Property?
Free inspection and thorough estimation.
24-Hour Emergency Recovery Services.
Immediate response.
Assistance in the insurance claim
Restore Your Damaged Drywall with The Professionals of Cyclone Kleen Up
Even though drywall issues can seem like an easy task to deal with it's best to let the professionals do it for you as they have both the knowledge and experience in assessing the damage work accordingly. Also if there's already mold on drywall improper removal can cause spores to be spread throughout the entire home. This could lead to additional cleaning. Moreover, mold may cause allergies, respiratory issues, and other health conditions to your family's health.
So when a disaster causes damage to your home's drywall, trust the certified experts of Cyclone Kleen Up for a thorough and efficient restoration. In order to start the restoration process as soon as possible contact us immediately after the incident occurs. Within ONE HOUR, your damage will be assessed by our recovery team, and immediately required services will be provided to keep your property safe and protected.
For years, we have been the go-to source for damage restoration and in Monument, Manitou Springs, Canon City, and other communities within our Colorado service area. Simply give us a call at 719-299-3887 or contact us online when you need our services or for more information.