Lightning & Thunderstorm Damage Restoration in Colorado Springs, Pueblo, Penrose, & Leadville, CO
If lightning or thunderstorm has struck your home or business property and you need to restore it, contact Cyclone Kleen Up. We are your local, certified, insured, and fully-equipped professional restoration company. We are available 24/7 in Leadville, Pueblo, Colorado Springs, and other cities throughout our Colorado service area. From assessing the damage to assisting with an insurance claim, we are with you every step of the way. When you need our services, simply give us a call at 719-299-3887 or contact us online for more information.
Benefits of Having Cyclone Kleen Up Restore Your Property
Free inspection and thorough estimation.
24-Hour Emergency Recovery Services.
Immediate response.
Assistance in the insurance claim.
What Happens When Lightning Strikes Your Property in Canon City?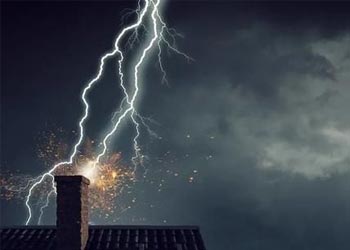 When lightning strikes your property, it doesn't necessarily cause a fire right away however, it can compromise the electrical wirings damage anything connected to the electricity at that moment. Appliance damage due to the electrical connection may cause a fire as well. Also, lightning can cause fire ignition if it falls on the flammable parts of the house such as wooden walls, roof, etc. A shock wave of lightning has the potential to damage walls, shatter windows, and even create cracks in the foundation of your home.
Restore Your Thunderstorm Damaged Property with Cyclone Kleen Up
When a thunderstorm causes damage to your property, trust the certified experts of Cyclone Kleen Up for a thorough and efficient restoration. In order to start the restoration process as soon as possible contact us immediately after the incident occurs. Within ONE HOUR, your damage will be assessed by our recovery team, and immediately required services will be provided to keep your property safe and protected.
For years, we have been the go-to source for damage restoration and in Monument, Manitou Springs, Canon City, and other communities within our Colorado service area. Simply give us a call at 719-299-3887 or contact us online when you need our services or for more information.