Structural Damage Restoration in Colorado Springs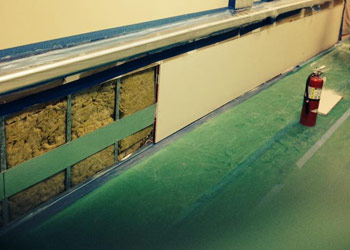 When a storm or flood strikes your home or office, your property will sustain some damage. The storm may create openings in the building envelop and cause interior water damages. Exterior finishes of your building can be damaged or detached along with the movement of structural members and connections due to heavy winds and/or hails in a storm. Flooding makes your building saturated and may cause structural displacement and instability due to hydrostatic pressure and soil washouts.
If your residential or commercial property has sustained structural damage due to due to storm or flood, contact your local restoration expert Cyclone Kleen Up, right away to help you restore your property in Leadville, Pueblo, Colorado Springs, and other cities throughout our Colorado service area. From assessing the damage to filing an insurance claim we assist you all the way. When you need our services, give us a call at 719-299-3887 or contact us online for more information.
Typical Structural Damages Caused By Storm & Flood in Pueblo
Foundation Instability
Collapse Due to Structural Movement or Displacement
Detachment or Damage of Exterior Finishes
Interior Water Damages Due to Openings in The Building Envelope
Cyclone Kleen Up Responds Quickly for Local Homeowners
When a storm or flood causes structural damage to your property, trust the certified experts of Cyclone Kleen Up for a thorough and efficient restoration. In order to start the restoration process as soon as possible contact us immediately after the incident occurs. Within ONE HOUR, your damage will be assessed by our recovery team, and immediately required services will be provided to keep your property safe and protected.
Choose Cyclone Kleen Up to Restore Your Property in Leadville, CO
Free inspection and thorough estimation.
24-Hour Emergency Recovery Services.
Immediate response.
Assistance in the insurance claim.
For years, we have been the go-to source for damage restoration and in Monument, Manitou Springs, Canon City, and other communities within our Colorado service area. Simply give us a call at 719-299-3887 or contact us online when you need our services or for more information.