Winter Storm Damage Restoration in Colorado Springs, CO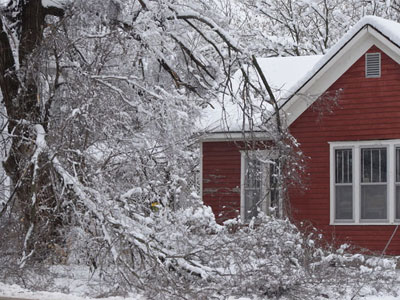 Although a winter storm soothes one's mind and creates a cool environment, the damage it causes to a property is an entirely different matter. Few circumstances can lead to major damage quicker than the storm itself. When a winter storm strikes your home or commercial property and it needs to be restored, contact Cyclone Kleen Up. We are your local, certified, insured, and fully-equipped professional restoration company in Leadville, Pueblo, Colorado Springs, and other cities throughout our Colorado service area. From assessing the damage to filing an insurance claim we assist you all the way. When you need our services, give us a call at 719-299-3887 or contact us online for more information.
How Can A Winter Storm Harm Colorado Homes?
Roof Damage: Being your home's first defense against the storm, your roof takes the heavy burnt. Even in case of no self-evident issues taking place after the winter storm, your roof might still have notable damages that you may detect after you find out other damages i.e., leaks. It is likely of metal roofs to show dings and dents.
Window Damage: Broken glass from window panes, skylights, and doors are one of the few foremost common property harms caused by a heavy windstorm.
Siding Damage: Harms done to sidings are mostly cosmetic, still extreme damage can cause leaks and cracks.
Water Damage: The granules on the shingles that shake free and drop off due to the strike of a windstorm onto your roof are more likely to gather in your gutter downspouts. It causes water to back up. Moreover losing shingles and shattered windows during a severe storm can also cause flooding and water damage in your house.
Why Choose Cyclone Kleen Up to Restore Your Leadville Property?
Free inspection and thorough estimation.
24-Hour Emergency Recovery Services.
Immediate response.
Assistance in the insurance claim.
Trust Cyclone Kleen Up to Repair Your Windstorm Damaged Home/Business in Canon City
When a windstorm causes damage to your property, trust the certified experts of Cyclone Kleen Up for a thorough and efficient restoration. In order to start the restoration process as soon as possible contact us immediately after the incident occurs. Within ONE HOUR, your damage will be assessed by our recovery team, and immediately required services will be provided to keep your property safe and protected.
For years, we have been the go-to source for damage restoration and in Monument, Manitou Springs, Canon City, and other communities within our Colorado service area. Simply give us a call at 719-299-3887 or contact us online when you need our services or for more information.