Water Damage Restoration in Colorado Springs, CO
Water damage is a common type of property damage in homes and businesses. Flooding, fighting fires and and broken pipes are all causes of significant water damage. Cyclone Kleen Up is a trusted expert in water damage clean-up in Colorado Springs and Avon, as well as our full service area. Water damage is often stressful, but let Cyclone Kleen Up dry out your property and put you back on the road to a stress-free life. Call us at 719-299-3887 for further information.
Cyclone Identifies All Classes of Water Damage in Pueblo, CO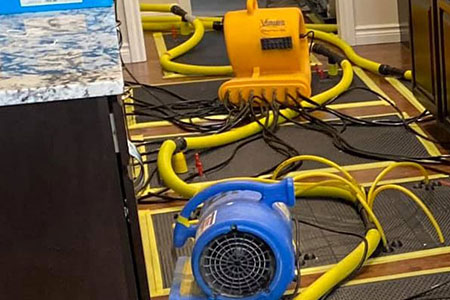 Water damage can fall into four main classifications and determine specific clean-up methods or services. The categories include:
Class 1 Water Damage: The smallest amount of water, absorption, and evaporation. Water losses only affect a portion of a room or area with materials that have absorbed a limited amount of moisture. Carpets or pads have little-to-no moisture.
Class 2 Water Damage: An entire room, carpets and pads. Water has risen less than 2 feet up the walls, and moisture is in structural materials such as plywood, particle board, structural timber, and concrete.
Class 3 Water Damage: The most water, absorption, and evaporation. Ceilings, walls, insulation, carpet, cushion, and sub-floor may be soaked through, either from water rising or falling from an attic or second floor.
Class 4 Water Damage: Wet materials with very low porosity and permeance (hardwood, plaster, brick, concrete, stone). Deep pockets of saturation require low specific humidity.
Why Cylone Kleen Up is Your Best Choice in Colorado Springs, CO
Quick Response Times
Free Estimates
Our company works directly with your insurance company.
To evaluate the amount of flood or water damage, we perform a FREE water damage inspection.
Let Cyclone Kleen Up Restore Your Water Damaged Property in Pueblo
If you live in Colorado Springs, Agate, or Avon and need water damage restoration, call Cyclone Kleen Up at 719-299-3887 or contact us online. Our emergency response staff is available 24/7 to assist you as needed.