Attic Water Damage Restoration in Colorado Springs
As attics are usually closed off from regular traffic. They often are the source of leaks that go unnoticed until water damage stains start to be visible on the ceiling, along walls, or until an unpleasant odor is smelled. In most cases, by the time you notice water damage in the attic, there has been mold growth and you are looking at costly structural damages to your property.
Fortunately, Cyclone Kleen Up is your local trusted restoration company. We serve customers in Monument, Manitou Springs, Canon City, and other communities within our Colorado service area.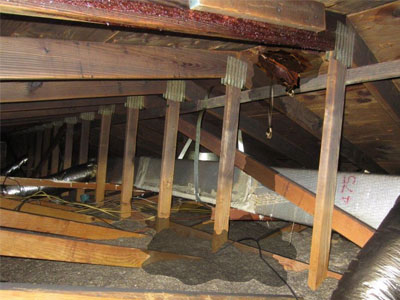 When you find water in the attic of your home or office in Colorado including Avondale, Boone, Littleton, or Florence, contact Cyclone Kleen Up for professional cleanup and water damage restoration services. We are your local and trusted restoration company with more than 31 years of experience in property damage restoration.
Why Customers Choose Cyclone Kleen Up in Monument & Boone
From assessing the damage to filing insurance claims, we assist you in every step.
We are in the restoration business for more than three decades.
We provide FREE estimates and thorough inspection.
We provide 24-hours emergency recovery service.
Within an hour our recovery team inspects your damage and provides the required service.
Reasons Behind Attic Water Damage in Castle Rock, CO
There are many reasons why your attic can be damaged by water. However in usual cases, attic water damage can be caused due to roof leaks, leaks of HVAC units, appliances that are vented improperly, faulty bathroom vents, and last but not the least, ground moisture that gets trapped in the attic. If there's any small crack or gap in the attic it's better to repair them before it can lead to any further costly damage.
Contact Cyclone Kleen Up for Attic Water Damage in Colorado Homes
Cyclone Kleen Up has been serving satisfied customers in Avondale, Boone, Littleton, Florence, and many more cities from our Colorado service area. for property damage restoration. If you have any queries about us or want to schedule your cleanup service call us at 719-299-3887 or contact us online.