La Junta Fire & Water Damage Restoration
When disaster strikes, your first response is to call for help and salvage what you can. Once the fire is out or the floodwaters subside, there is something else you should do: contact a first-rate disaster restoration company to get you back on your feet as quickly as possible.
In La Junta, CO, that company is Cyclone Kleenup. For more than 30 years, we have helped people restore their homes and businesses in the wake of damages created by disasters.
Our lineup of services is tailor-made to get things back to the way they were before disaster struck. Our team knows exactly what needs to be done and how it should be done to get things back to normal as quickly and efficiently as possible.
No matter what disaster you may have suffered, Cyclone Kleenup will help you get your life back on track in no time at all.
Damage Restoration - Mold & Asbestos Specialists in La Junta
Disasters don't give fair warning. They happen in the blink of an eye. Before you know it, your home is inundated or your business is up in flames.
The only way you can recover from such a tragedy is to have a company you can call at any time of the day to help with remediation and repairs. That company is Cyclone Kleenup.
We have a team of trained and certified professionals ready to help you at the drop of a hat, and we can be at your doorstep night or day when you call. The services we offer our customers include:
• Water Damage Restoration – Water damage can happen suddenly or it can creep up on you without you noticing. Some of the more common causes of water damage include toilet overflows, sewer backup, malfunctioning appliances, and broken pipes.
• Fire Damage Restoration – A fire brings about massive damage that can devastate an entire home or business. It can also bring about damage caused not only by the flames but also by the smoke and soot it produces.
FREE ASSESSMENT
Call now 719-299-3887 or fill out the box below:
• Storm and Flood Restoration – Nature's wrath can bring about floods, strong winds, and lots of rain. These can cause damage to your home's exterior as well as its interior.
• Disaster Restoration – Cleaning up after a disaster can be depressing particularly if you see the devastation all the way down the road. We can help you get rid of the dirt and debris that disasters bring.
• Mold Remediation – Molds are not harmless. Not only do these bring about health issues such as respiratory problems, allergic reactions, rashes, and headaches, but these can also cause serious structural damage.
Other services we offer our customers include trauma cleanup, asbestos testing and removal, and commercial restoration. We can also help you with repairs to your home and business with our construction services.
Think Of Us For Your Damage Restoration Needs
To get the help you need when disaster strikes in La Junta, CO, the company you can trust to be there as quickly as possible is Cyclone Kleenup. You can contact us by calling 719-299-3887 or you can fill out our contact form on our Contact Us page to schedule your free assessment and estimate.
Blogs related to La Junta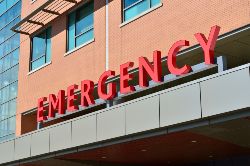 Water Damaged Hospitals and Medical Facilities in Central Colorado
Cyclone Kleen Up Fire & Water Restoration helps restore Central Colorado hospitals and medical facilities after water pipe breaks.