Meth Clean-Up Service around Pueblo, CO
Methamphetamine is a chemical that is both toxic and illegal at the same time due to its harmful addictive reactions to the human body. In addition to being absorbed into soft surfaces like furniture, drapes, and carpeting, this could leave contamination on hard surfaces like walls, cabinets, sinks, or heating and air conditioning ducts. Smoking meth on a property may also contaminate the air. Meth can be harmful to people's health even in little doses. That's why meth clean-up has to be done rapidly. Whether it is a meth laboratory or a meth-addicted person's home, for cleanup Cyclone Kleen Up, is here to stand by your side. We are one of the leading cleaning professionals, offering you complete meth cleanup service along with other disaster cleaning services for asbestos, water, fire, mold, and others.
Our services are available in Pueblo, Colorado Springs, Woodland Park, Fowler, Monument, and other neighboring service areas. You can simply give us a call at 719-299-3887 directly or visit the link here to reach us online.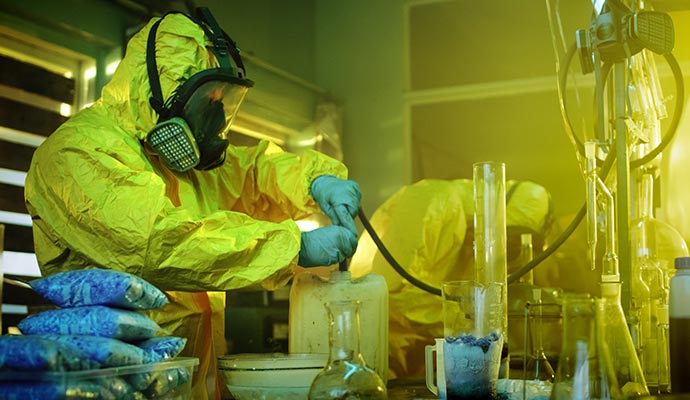 Dangers You Might Face while Meth Lab Cleaning
Before beginning the cleanup procedure, it is essential to be informed of all the risks. Even if you call a professional cleaning company to do it for you, it's still helpful for you to be aware of some of the risks associated with a typical meth lab clean-up.
Meth labs are prone to fire because of the volatile substances utilized in the manufacturing process, in addition to being filled with very hazardous chemicals. It can be dangerous to enter a meth lab without first performing an accurate test. Meth residue can be consumed, inhaled, or directly contacted with the skin which can be extremely harmful.
Rely on Cyclone Kleen Up for The Best Possible Cleanup Service
For property owners, Cyclone Kleen Up provides 24-hour emergency services with quick responses to protect your possessions and reduce further losses. Our recovery team will evaluate the damage within just an hour and perform the services that are needed right away to keep your property secure. We provide on-site inspections and estimates. Call us at 719-299-3887 if you'd like to get in contact with us.