Save Property from Straight Line Wind Damage in Colorado Springs
Straight line wind contains intense spring storms moving throughout an entire region. This type of wind is often caused by downdrafts storm cells and outreach up to 100 miles/hr. These types of wind are also known as microbursts. These bursts of wind cause an increase and decrease in the airspeed rapidly. Whenever such wind hits your property, it creates a lot of damage to your rooftop. So, the ideal decision would be to investigate professionally. To play the role here comes Cyclone Kleen Up. We will provide you full service for repairing and restoring your property damaged by straight-line wind.
If you are living in the area of Fountain, Monument, Florence, and other counties in Colorado, you can get all of our services. Simply make a call at 719-299-3887 or, click on the link for more information.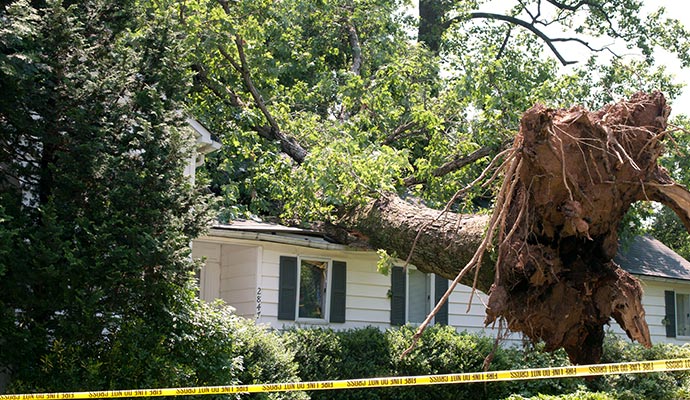 Safety Measures for Straight Line Wind Damage
Wind damages from a thunderstorm are much more severe than tornados. As the dangers of the downdraft wind can be serious, you need to take some serious action immediately to lessen the damages.
Pay attention to the thunderstorm warnings.
Never stay outside during thunder strikes.
Find a safe shelter. If you are unable to find it, crouch down as lowest as possible wherever you are.
Do not go near trees or electricity poles.
Pull over your transport at a safe place in case you are driving.
Avoid going near open windows and doors.
Cyclone Kleen Up Offers A Bunch of Other Services
There can be various types of property damage caused by various disastrous events. Our company has got you covered with all the damage solutions. The services we have are:
Our company has trained restoration experts who are willing to give you 24/7 emergency services and save your property from unfortunate incidents. We have years of experience in this industry and we are successfully working towards our motto which is absolute customer satisfaction.
To get our immediate attention, call us at 719-299-3887. We are also available online. Click on the link for online communication.