Find Hidden Water Leaks in Pueblo & Colorado Springs
Cyclone Kleen Up is a company filled with professional restoration experts who can find hidden water leaks at your home or office within our Southern Colorado service area. By finding these leaks before they become plumbing issues that lead to water pipe breaks and other issues that can trigger major water damage restoration services is always a good preventive measure.
When you allow our IICRC-certified technicians to inspect your property to find hidden water leaks that can lead to major water damage at a later date, you can maintain a safe and healthy environment for your property and avoid huge emergency repair bills. Cyclone Kleen Up is the company that can help you to find hidden water leaks at your property in Pueblo, Colorado Springs, Salida, and other Colorado cities within our service area. To learn more, call us at 719-299-3887 or click here.
Issues Caused by Hidden Water Leaks That We Can Restore
Water damage from hidden water leaks can have unwanted consequences. Potential issues that we can restore include: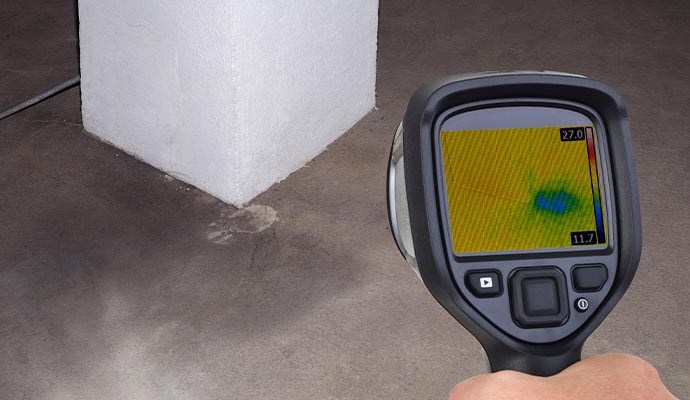 Structural Damage: Undetected water leaks can cause significant structural damage to your property.
Mold & Mildew Growth: Hidden water leaks can trigger mold & mildew growth, leading to health hazards.
Electrical Hazards: Water leaks contacting live electricity can lead to electrocutions, shocks, and even fires.
Damage to Personal Belongings: Water damage can ruin furniture, carpets, electronics, and other personal belongings.
Increased Utility Costs: Hidden water leaks trigger higher water bills that will persist until the leak is stopped.
Decreased Property Value: Structural issues, mold, and other issues caused by moisture will lower your property value.
Insurance Complications: Water damage to your property can lead to a spike in rates or loss of insurance coverage.
To protect your property from hidden water leaks, rely on our restoration experts at Cyclone Kleen Up.
Call Us to Eliminate Water Leaks in Colorado Springs, Salida, & Monument
You can't neglect water leaks at your property, even if they are hidden. That is why you need to let our technicians perform regular maintenance services that find hidden water leaks that will protect your property and save on repair costs for the long haul. To learn more about how Cyclone Kleen Up can quickly find hidden water leaks and restore your property from water damage, call us today at 719-299-3887. You can also click here to schedule services today at your property in Colorado City, Penrose, Monument, and other cities we serve throughout Southern Colorado.