Smoke & Soot Damage Restoration | Colorado Springs
Fire disasters do not end after the flames have been extinguished. The term, "After the smoke clears," should not only be taken metaphorically but literally, as well. Smoke is not as menacing as a roaring flame, but it is a viable danger to you, your contents, and your property. When smoke and soot circulate around your home and commercialized space, they carry noxious toxins that may lead to numerous health problems.
Hidden Dangers of Smoke & Soot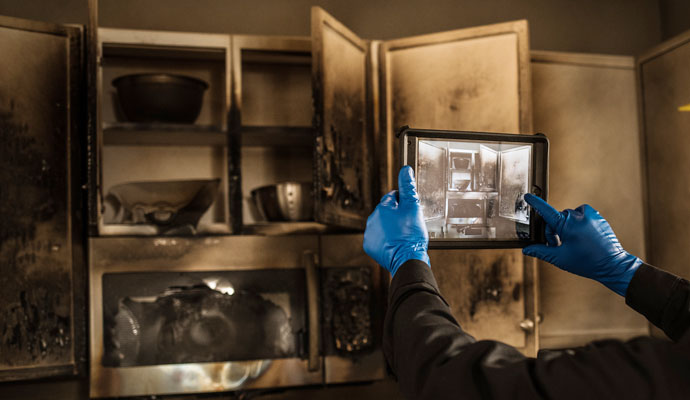 When something burns, it leaves a trail of smoke and soot. Be it a piece of furniture, a tree, or even the walls of a building, smoke and soot carry a few dozen particles and chemicals that can be both detrimental to your health and your items. Particles such as tiny pieces of wood and dust are able to clog up your lungs. They are also capable of damaging the internal parts of your appliances and be absorbed by the upholstery of your furniture or carpets.
The worst outcome, however, from any fire damage would be the presence of carbon monoxide; a deadly chemical compound that can harm or kill anyone who has been exposed for too long. Other soot and smoke damages may include the degradation of metals and wood, damaging clothes, upholstery, and carpeting, and ruining artwork or collectibles.
Professional Smoke & Soot Damage Restoration Services
Here at Cyclone Kleen Up, we understand and provide the best smoke and fire restoration service; ensuring that your property and belongings will be restored to their pre-loss condition. Using the latest restoration technology available, we will remove undesirable particles that have combined with the air.
We also offer content restoration; bringing your damaged items to our special facility, where we will have them cleaned and disinfected before returning them into your hands.
Trust Your Smoke & Soot Damage Restoration Needs in Colorado to Cyclone Kleen Up
With Cyclone Kleen Up, you can rest assured that whatever smoke and soot have entered your property will be taken care of through our professional methods. Call us at 719-299-3887  to know more about our restoration services, and more! You may also reach us through our contact page for more details.