Removal Services for Asbestos at Home in Pueblo, CO
Asbestos is a naturally forming mineral that is composed of flexible fibers, resistant to heat, electricity & corrosion. A highly resilient mineral, it was common in construction projects throughout the USA for decades before it was proven that extended exposure to asbestos causes cancer & pulmonary diseases. Although the material has not been used in new construction materials for decades, it is still prevalent in older homes and structures within our Colorado service area.
The danger stems from tiny fibers that are released into the air by asbestos that are easily inhaled. To remove asbestos from your home, you can count on the specialists from Cyclone Kleenup for effective asbestos abatement services that will eliminate the threat of asbestos exposure. We have the expertise to make your home's indoor environment free from air asbestos fibers and thus, healthier. Call us now at 719-299-3887 or click here for professional attention from our crews.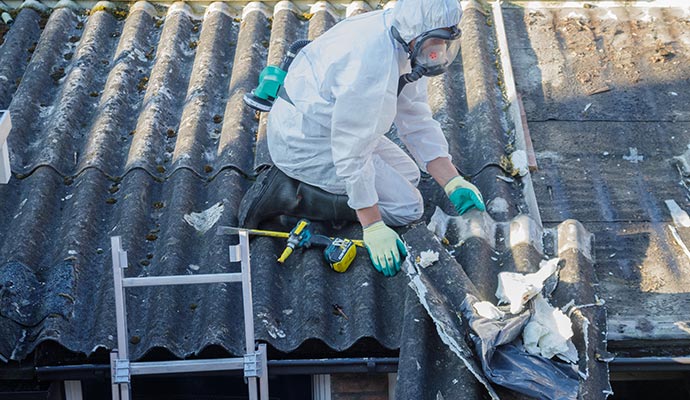 Finding Asbestos in Homes
Asbestos is most commonly found in older construction materials that include insulation, vinyl, adhesives, and appliances. Common places for asbestos to exist around your home include:
Fibro sheeting
Water drainage
Flue pipes
Roofing shingles
Guttering
Backing for flooring
Insulated wire
Cable wrap
Pipe insulation
Vermiculite attic insulation
Cement asbestos siding
Floor tile adhesives
Eliminate Asbestos from Your Home with Cyclone Kleenup in Pueblo
Proper testing is required to determine whether an object contains asbestos. If exposed to an asbestos-filled environment, your family will come into contact with health risks. Asbestos causes scarring of the lung lining, leading to mesothelioma and other dangerous cancers. When you need asbestos removal services at your home or office in Monument, Pueblo, Canon City, Salida, or other Colorado cities, call Cyclone Kleenup at 719-299-3887 or click here. Our crews provide 24/7/365 emergency services.