Chemical Spill Cleanup in Colorado Springs, CO
Industries that work with various chemicals know what happens when two incompatible chemicals combine, and the results are most often undesirable. Huge explosions, hazardous gasses, and strong chemical burns are only some of the outcomes that could occur. That's why it's important for chemical manufacturing industries to ensure that their workers are careful when handling these substances. Still, no matter how professional industrial chemists are, chemical spills can still happen.
Whether it was caused by human error or a malfunctioning machine, chemical spills are dangerous incidents. Depending on the type of chemical that was spilled, cleaning it up could cause property damage, injuries, and even death. In these types of scenarios, relying on ordinary cleaning methods won't suffice.
Cyclone Kleen Up Resolves Chemical Spills in Colorado Springs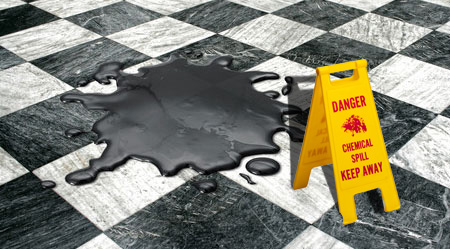 Contact Cyclone Kleen Up immediately if you've encountered a chemical spill in your property. Our company has over 31 years of experience in property damage restoration. We also offer professional trauma cleanup services in Pueblo and Colorado Springs, Colorado.
We know that time is of the essence when facing chemical spills. Chemicals that aren't immediately cleaned up could damage your property and health even further. That's why our emergency services are available 24/7, allowing us to come to your aid at any time.
Our fully licensed and certified technicians understand the dangers of chemical spills, so every job is conducted with the utmost precision and care. The cleaning procedures and products we use are tailored to your situation to prevent further chemical reactions from occurring. We'll even clean up spills that are located in hard-to-reach areas, ensuring that the environment is restored to a safe and healthy condition.