Common Materials with Asbestos in Colorado Homes
If your home or commercial property was built during the '60s or '70s, you are likely to have asbestos. Because of its extraordinary heat resistance, asbestos was a common household and building material back in those days, before subsequent tests proved it to be a carcinogen to humans.
Even though these materials have been removed from today's construction process, it is important to know where asbestos is located in your property as it poses a great threat to you and everyone who comes in contact. Cyclone Kleen Up, your local asbestos abatement specialist serving in Colorado for years, is at your service to help you identify it.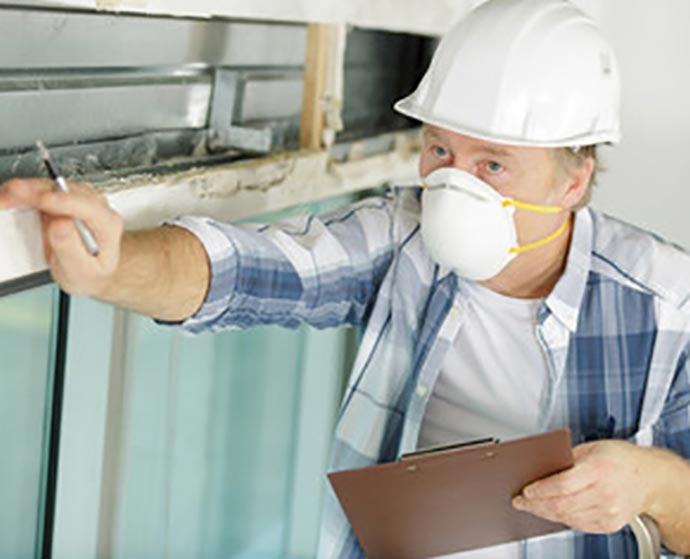 Where Can You Find Asbestos in Your Home or Office in Colorado?
Home Exterior: Felt paper, siding, roof, shingles, cement.
Flooring: Floor tiles, sheet flooring, and other floor products.
Insulation: Vermiculite insulation, ceiling tiles, and coatings.
HVAC System: Duct connectors, HVAC fabric, duct tape, duct insulation, furnace cement, and a few kinds of ducts themselves.
Electric System: Insulated wire, cable wrap, electrical shielding.
Cyclone Kleen Up is Your Proven Asbestos Inspection Company
In addition to the locations mentioned places above, asbestos can still be found in other places of your property. Therefore the best way to identify asbestos is to ask for professional help. At Cyclone Kleen Up we don't only provide you a thorough inspection, we also help you with the asbestos abatement process.
Why Businesses & Homeowners in Colorado Choose Cyclone Kleen Up
We are your local, certified, insured, and fully-equipped professional restoration company to help you inspect and remove asbestos from your commercial or residential property. 
Our Services Include:
Free estimation
24-Hour Emergency Recovery Services
Immediate response
Contact Cyclone Kleen Up for Asbestos Inspection & Abatement
With the proper equipment and procedures at hand, Cyclone Kleen Up will make sure that your property is free from the harmful effects of asbestos. Before we proceed with the proper removal process, our expertly trained technicians will first test your building to determine where it is located and which rooms are being affected. Once complete, we will seal off the area to detain the diffusion of asbestos and start the process. We will dispose of asbestos riddled structures and items and make a final inspection before we leave the premises.
Give us a call at 719-299-3887 or contact us online for further details and questions. For years we've been serving in Colorado including Pueblo, Colorado Springs, and other cities throughout our Colorado service area.