Asbestos Insulation Removal in Pueblo & Colorado Springs, CO
Decades-old asbestos insulation was mostly during the last century, until the 1980s, to make properties more fire-resistant. Potential health hazards of asbestos exposure over years include cancer, pulmonary diseases, lung and throat damage, and more.Commercial asbestos insulation removal more often requires a certified, experienced provider and adherence to local, state or federal guidelines.
Cyclone Kleen Up has the skilled, professional asbestos insulation removal solutions to clean up and protect your commercial or residential property. We assist clients in Fowler, Colorado Springs, Woodland Park, Florence, Pueblo, and across our CO service area. Call us today at 719-299-3887 or contact us online to learn more and arrange a consultation with a Cyclone Kleen Up representative.
Cyclone Removes Old Asbestos Insulation
Asbestos insulation used to come in many forms, and Cyclone Kleen Up provides removal of the following: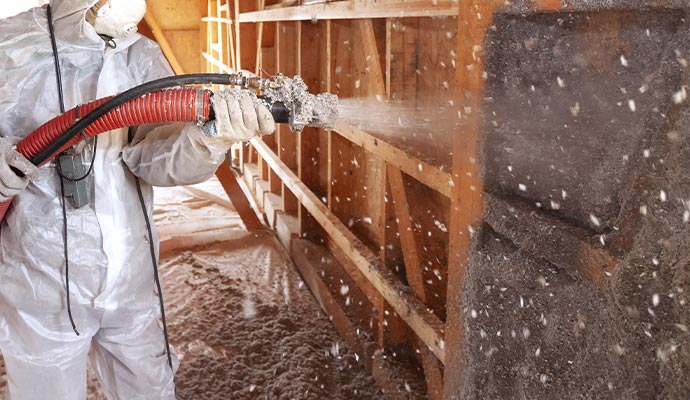 Spray-on insulation: Thick coatings of asbestos fibers were often sprayed on the ceilings of buildings for insulation.
Loose-fill insulation: Asbestos loose-fill was used to insulate the floor of an attic and blown into the gaps of walls. Asbestos fibers can become disturbed, airborne, and inhaled.
Wall insulation blocks: These asbestos boards are fitted to line walls. When asbestos insulation panels or blocks are cut apart or processed, particle dust is scattered.
Insulation wraps or blankets: They once covered pipes and plumbing on Navy boats, and created health concerns. Older wrap insulation can easily break apart and release asbestos particles.
Trust Cyclone to Increase Safety with Asbestos Insulation Removal in Pueblo, CO
Asbestos insulation can be hazardous to your health whether you're exposed to it over a short or extended period. At Cyclone Kleen Up, we have the expertise to effectively and affordably remove asbestos hazards from schools, as well as workplaces and residences. Ask about our asbestos inspections and free estimates. Call us today at 719-299-3887 or contact us online to learn more and book an appointment with a Cyclone Kleen Up team member.