Mold Removal in Colorado Springs, CO
The average person commonly associates mold with old food, spoiling it and making it unfit for consumption.
Yet what many people don't realize is that this organism is also responsible for physically destroying homes, usually from the inside out. It usually grows on the walls or in nooks and crannies of a building. And like the mold on food, it can cause various respiratory ailments when ingested.
The scary thing is that most people in a mold-infested building don't realize they are already inhaling mold spores. They will only experience the symptoms, such as coughing or wheezing; once they realize that it may be caused by mold, they have already suffered from prolonged exposure.
Which is why it's not just important to get a free mold inspection from us at Cyclone Kleen Up. It's also imperative that once an infestation is discovered, a mold removal service is carried out immediately.
Mold Removal Services in Colorado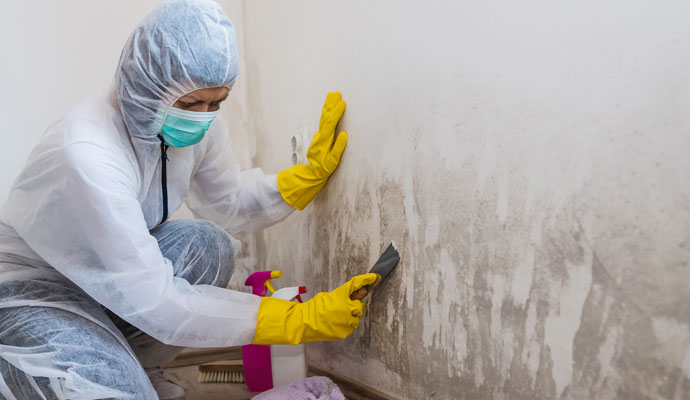 To carry out this task, we will send a licensed team trained in the latest mold removal techniques to secure and dry out the affected area.
Using state-of-the-art technology and equipment, our team will isolate then remove all mold-affected components and materials. This is to ensure that the infestation won't spread further.
After the clean-up, we will offer suggestions on how you can prevent mold from growing in your home or office again. We also offer a warranty on our mold remediation service—this is how much we trust the quality of our work.
And for property owners who worry about the cost, never fear. Cyclone Kleen Up will coordinate with your insurance company to ensure that you only pay what's fair. Insurance companies that we work with include AIG, Assurant, Allstate, Chartis, Travelers, Nationwide, and USAA.
Count on Cyclone Kleen Up to Remove Mold from Your Colorado Home
To avail of our free mold inspection, and eventually our mold removal service, contact us at Cyclone Kleen Up on our 24/7 Emergency Response hotline at 719-299-3887. We service both Colorado.