School Restoration Services in Pueblo & Monument, CO
Schools of all levels, including colleges, have buildings and campuses devoted to a learning environment. When natural disasters strike and chaos ensues, these facilities will need school restoration services to return structural stability to the buildings as well as a safe and healthy learning environment for students. In Colorado Springs, Pueblo, Salida, Monument, Canon City, and other Colorado cities within our service area, Cyclone Kleen Up provides the best school restoration services.
Our certified technicians provide a comprehensive array of restoration services for a wide variety of industries we serve in Colorado, including schools. Our expertise has led to the successful restoration of many elementary schools, junior highs, high schools, and colleges throughout our decades of service to our loyal customers. To learn more, dial 719-299-3887 or click here to schedule services today at your school campus.
Safeguarding Learning Environments in Colorado Springs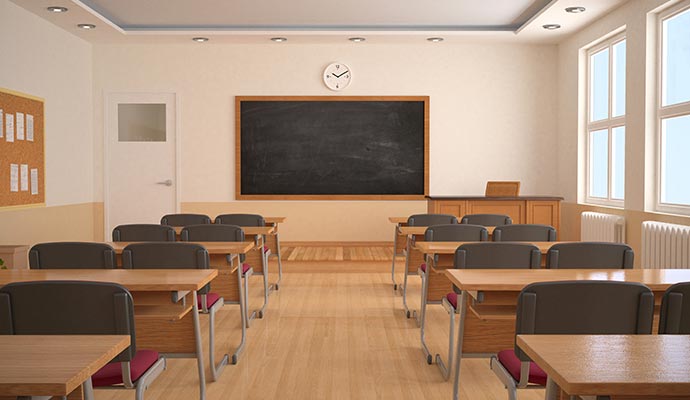 When you need restoration services at your school campus, Cyclone Kleen Up offers:
Water Damage Restoration: Water damage at educational institutions can lead to structural instability, mold growth, and health problems. Our crews restore damage from water leaks, floods, plumbing issues, and more.
Mold Remediation: Mold growth poses health risks to students and staff in addition to structural damage. We will restore healthy indoor air quality to your school to recapture a proper learning environment.
Fire Damage Restoration: Beyond restoring the damages caused by a fire, you will need services to remediate smoke & soot damages as well as odor removal.
Trust Us to Restore Your School in Canon City & Fountain
At Cyclone Kleen Up, we offer 24/7 emergency services to schools throughout our Colorado service area. When you need our help, call 719-299-3887 or click here to make an appointment online. With more than 30 years of industry experience, some benefits you will receive by choosing us include:
Insurance billing & claims assistance
Certified & experienced technicians
Quick response times
Detailed inspections & estimates
Customer-friendly prices
ASHE-certified in infectious disease control