Asbestos Testing & Removal | Colorado Springs & Pueblo
If you live or work in a home or building constructed in the 1980s or earlier, or if you are considering restoring or deconstructing one, you are most likely exposed to asbestos. It's a health hazard to you and your family because its microscopic particles can be inhaled and lead to cancer. If you suspect asbestos, then removal needs to be done by professionals.
Cyclone Kleen Up has trained and certified staff who can perform asbestos testing & removal in Colorado Springs, Penrose, Salida, Pueblo, and throughout our service area. To learn more, call 719-299-3887 or click here to schedule asbestos removal services ASAP at your property in Colorado.
Our asbestos experts help schools and businesses comply with air pollution laws regulating asbestos and materials containing it, including the Air Quality Control Commission's edicts concerning asbestos abatement in Colorado. Cyclone Kleen Up is one of the companies designated by the governor's office to oversee asbestos management plans for all public and private nonprofit schools in Colorado and make sure they comply with the regulations.
Symptoms of Asbestos Exposure in Monument & Florence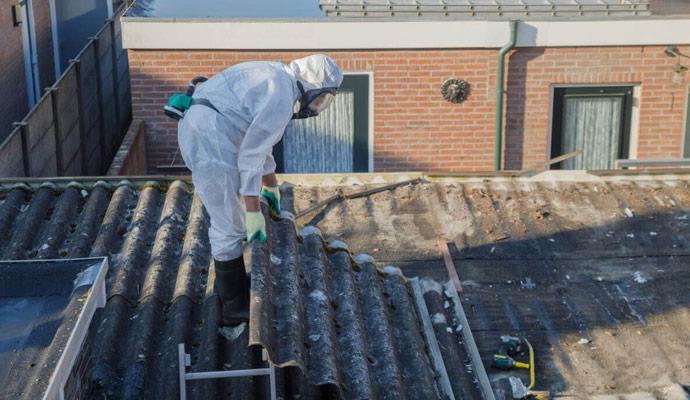 Inhaling asbestos particles can result in symptoms that lead to lung cancer, mesothelioma, and asbestosis:
Loss of appetite
Dry crackling noise in the lungs when one inhales
Chest tightness and pain
Shortness of breath
Incessant coughing that expels mucus
Removing asbestos through common means is challenging because it can be difficult to spot, and handling asbestos can cause it to easily crumble. Do not place yourself in harm's way; let us handle the situation professionally.
Why Choose Cyclone Kleen Up for Your Asbestos Removal Needs?
Years of industry experience & certified technicians
Certified to handle asbestos removal at Colorado schools
Adhere to all Air Quality Control Commission edicts
Adhere to the Asbestos Hazard Emergency Response Act
Quick response times
Free estimates
24-hour emergency services
Thorough structural drying
Assist with insurance claims and billing
Daily monitoring of damaged property
Fully equipped for any size loss
Professional customer care
Contact Us for Asbestos Abatement in Pueblo, Penrose, & Leadville
Cyclone Kleen Up will make sure that your property is free from the harmful effects of asbestos. Before we proceed to the asbestos removal process, our technicians will first test your building to determine where the asbestos is located and which room is being affected the most. Then we seal off the area and start the process. We will dispose of that asbestos, and complete a final inspection. To secure our professional help, call 719-299-3887 or click here to schedule an appointment ASAP in Canon City, Fowler, Monument, and throughout Colorado. Additional services include:
Water Damage Restoration
Storm & Flood Restoration
Mold Remediation