Broken Pipe Repair, Replacement, & Restoration in Pueblo
At your home or office, a broken pipe can cause significant water damage. To save your property from water damage, you must need broken pipe repair and replacement services, followed by water damage restoration services. Cyclone Kleen Up is a certified restoration company that can deal with water pipe break issues.
A broken water pipe is one of the most frequent plumbing problems that lead to the need for water damage restoration services. For property owners in Pueblo, Salida, Colorado City, and throughout our Southern Colorado service area, Cyclone Kleen Up is available to help you with all steps in the repair, replacement, and restoration process. Our certified restoration specialists use state-of-the-art restoration equipment and have decades of professional expertise. Call us at 719-299-3887 to learn more or click here to schedule a restoration-related service at your property today.
Issues Caused by a Broken Pipe That We Can Restore
At Cyclone Kleen Up, we can restore all kinds of damages caused by broken pipes. Signs that you may need our services include: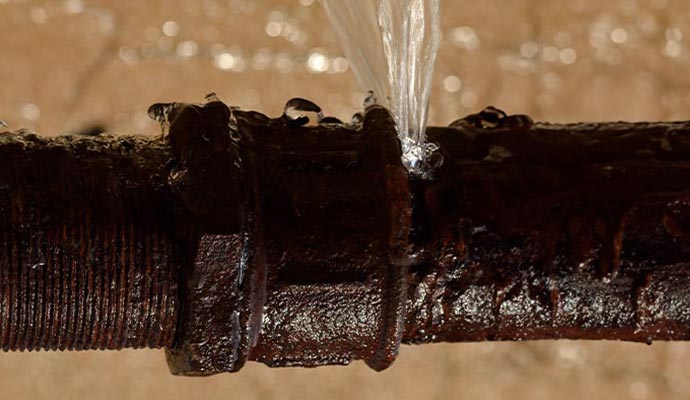 Water leakage: Water pooling on floors & carpets suggests a pipe break at your property.
Water stains: Discolored patches or stains on ceilings, walls, and floors may signal a pipe break.
Damp or musty odor: A persistent musty odor from behind a wall or in your basement could be the result of a broken pipe.
Mold or mildew growth: Moisture from a broken pipe can lead to the growth of mold or mildew.
Peeling or bubbling paint: Water from a broken pipe can cause paint or wallpaper to peel, bubble, or blister.
Damaged flooring: Wooden or tile floors may start to warp or buckle when exposed to water from a pipe break.
Unusual sounds: Sounds of water dripping or hissing from behind walls could indicate an active water leak.
Decreased water pressure: A sudden drop in water pressure throughout your home could be due to a broken pipe.
Increased water bills: A broken pipe will trigger an increase in your water bill because of wasted water.
Visible corrosion or rust: Any evidence of corrosion or rust on your pipes suggests a long-standing leak or pipe break.
When you see any one of the signs, contact us immediately for water damage restoration services for your property.
Rely on Us to Restore Water-Damaged Property in Colorado Springs
A broken pipe leading to water damage needs to address quickly to stop the damaging effect. You will need water damage restoration services from our proven professionals that also include the repair and replacement of your broken water pipe. At Cyclone Kleen Up, you can get all of these services in a single package. To learn more, call us at 719-299-3887 or click here to schedule restoration services today at your property in Colorado Springs, Penrose, or Monument.