How to Help Keep Senior Citizens Safe in a Storm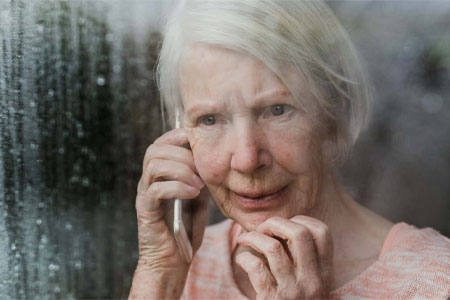 Bad weather can be scary, especially if it hits before you can prepare. This risk is aggravated if you or a family member is a senior citizen, where mobility complications and other effects of aging make preparation more essential.
Although you might not like to think about what may go wrong, planning is one way you can outsmart the weather and save your peace of mind. Follow these three steps to prepare yourself and your senior family members for Colorado storms and other disaster events.
Keep in Touch

Good communication is vital for storm preparation and safety. Many people in Pueblo & Colorado Springs keep a check on approaching weather by checking apps on their phones or listening to the news. You can also sign up for text messages and emails that will alert you of local emergency events. Additionally, invest in an old-school NOAA weather radio to avoid any technological confusion or outages.

It's important to communicate frequently with family members or close friends. Sometimes they can give you additional information, and it's always a good idea to let them know that you're safe and well. If there are no family members or close friends nearby, consider contacting a senior home care provider in advance to have a professional caregiver at a senior's home until the storm is over.

During some severe storms, the ability to charge electronic devices such as phones may be lost. So pre-charge several external battery packs and put them in an accessible location so you can keep in touch with your family.

Preparation is Essential

Severe weather conditions can interfere with utilities such as Wi-Fi, heat, and electricity. They may all stop working during a bad storm. If the heat cuts out in the summer, the elderly could succumb to heatstroke. In the winter, they could experience hypothermia. These conditions can be a heightened risk for any family members with critical health needs or sensitivity to temperature changes.

Consider what your family would need to weather a storm without electricity in any season. Then stock your and your loved ones' homes with enough food to last at least two weeks along with essential supplies like blankets, bottled water, flashlights, hygiene items, and any medications or health supplies they would need. If possible, install a generator to lessen the effects on the elderly.

Does your senior rely on a home medical device powered by energy? As soon as an essential medical device is put in service in the home, the local electric utility (and sometimes other authorities) should be notified of its existence and need. This can put your loved one on a list for immediate attention during a power outage.

Keep a list in a prominent area of your home that includes phone numbers of all utility companies including power, gas, and water. Also include emergency numbers such as the fire department, police, doctor, and home care provider. Quick access to these phone numbers is crucial.

Have an Exit Strategy

Have an evacuation strategy in place. Plan what you'll do if an evacuation is needed, and make sure your senior fully understands and agrees with each point. Talk to the elderly person about what will need to be done in the event of a severe storm, including who to call, and where important things are kept.

Have a prearranged location picked out as the place your family will meet in case you get separated from each other? Make sure everyone knows not only the best escape routes but also the safe places to go inside their home if a tornado approaches.
Once You've Done What You Can
Each year, the weather becomes more violent. It will always be much bigger than you are and uncontrollable. However, the planning you've done means you can worry less about severe weather events. You've done what you can to protect your elderly family members and are ready for whatever weather comes your way.
One of the phone numbers you need to keep handy is for Cyclone Kleen Up. If you or senior family members do experience storm damage to their Pueblo & Colorado Springs home. Call the professionals at 719-299-3887 or click here. Cyclone Kleen Up will arrive quickly to clean and do repairs, treating the property and your family with respect.