Water Damaged Hospitals and Medical Facilities in Central Colorado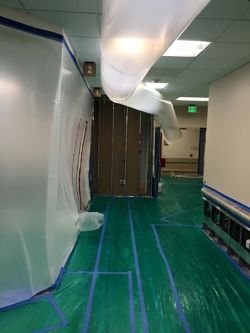 When a water pipe breaks at your local hospital or medical facility, you often wonder if the building is cleaned up properly by a professional restoration company. In many cases, local hospital janitorial staff take immediate actions to contain the property from further damage. This is the hospital or medical facilities first line of defense however; most janitorial staff do not have specialized training in property damage restoration and often cause more damage.
Cyclone Kleen Up Fire & Water Restoration provides Central Colorado hospitals and medical facilities with properly trained staff in property damage restoration and will recommend the appropriate actions needed to clean up your water damaged medical facility. Our staff is trained in infectious control procedures while your building in under construction and will help you put your hospital back together fast.
Cyclone Kleen Up crews are certified by the American Society for Healthcare Engineering (ASHE) on managing infection prevention during the construction and operations of health care facilities. Each member goes through an extensive two-day seminar to learn how to implement processes to protect patients, staff, and visitors from hospital-acquired infections.
If you want more information for help in Colorado Springs, Pueblo, and the surrounding area, contact Cyclone Kleen Up today!