Building Fires Can Cause Asbestos Exposure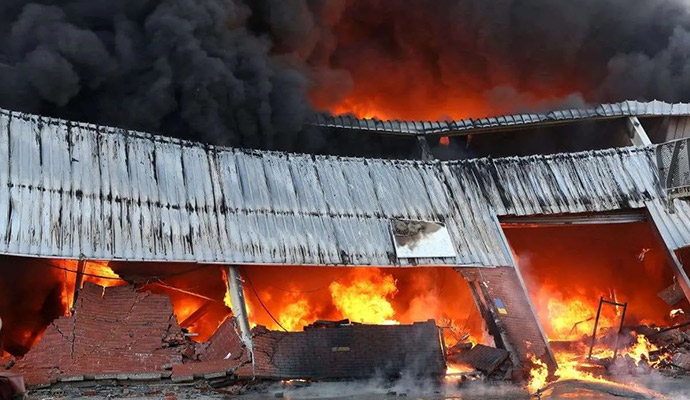 Fire disaster restoration is the process of restoring a building or property to its pre-fire condition after a fire has occurred. In Colorado, the process of fire disaster restoration can be complicated by the presence of asbestos-containing materials (ACM) in the building. Asbestos is a fibrous mineral that was commonly used in building materials prior to the 1980s and can be found in a variety of products such as insulation, roofing, and flooring. When exposed to high heat, asbestos fibers can become airborne and can cause serious health problems if inhaled.
When a fire occurs in a building that contains ACM, the fire department will contact a licensed asbestos inspector to assess the damage and determine if asbestos fibers have been released into the air. If asbestos fibers are present, the fire department will work with the licensed asbestos abatement contractor to develop a plan for the safe removal and disposal of the ACM.
How Asbestos is Handled Post Fire
The fire disaster restoration process will begin with the removal of any debris that was created by the fire. This debris must be handled carefully to ensure that asbestos fibers are not released into the air. Once the debris has been removed, the licensed asbestos abatement contractor will begin the process of removing and disposing of any ACM that was damaged by the fire.
The asbestos abatement contractor will use specialized equipment, such as HEPA vacuums and negative air machines, to remove the ACM. The materials will be placed in heavy-duty plastic bags and sealed before they are transported to a licensed asbestos disposal facility.
During the fire disaster restoration process, strict safety precautions must be taken to protect workers and occupants of the building. The area where the ACM is being removed must be sealed off, and workers must wear protective clothing, including respirators, to prevent exposure to asbestos fibers.
Once the asbestos removal and disposal process is complete, the fire disaster restoration process can continue. This may include cleaning and repainting surfaces, replacing damaged flooring, and repairing or rebuilding structural elements of the building.
An Asbestos Abatement Company Must Do The Work
It's important to note that the fire disaster restoration process is not a simple task and must only be carried out by professionals with the proper training, equipment, and experience. It is crucial to protect the health and safety of workers and occupants of the building during the removal and disposal of asbestos-containing materials. Moreover, it's also important to consider the possible secondary damage caused by fire such as water and smoke damage. In these cases, it's important to work with a professional company that can handle all aspects of the restoration process, including asbestos abatement, water, and smoke damage repair, and rebuilding.
Cyclone Kleen Up is a restoration company with years of experience dealing with fire damage. We work with our clients as a team to ensure that every property is returned to its pre-loss condition as quickly and efficiently as possible. Their trained and certified staff also perform asbestos testing & removal in Colorado Springs, Penrose, Salida, Pueblo, and throughout our service area. To learn more about either of these services, call 719-299-3887 or click here to schedule an appointment.