Does Your Popcorn Ceiling Contain Asbestos?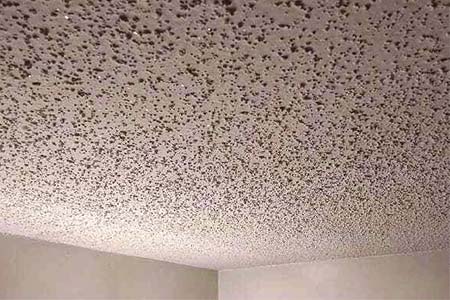 If your Colorado home has this type of ceiling and you want to paint it, it's important to remember that it's more difficult to do so than paint a flat surface. You'll need to use thick-nap roller covers to adequately cover the popcorn. You'll also need a lot of paint because the texture will soak it up.
Instead of painting over popcorn ceilings, many today are choosing to have them removed for a more modern look. But before you do, consider when your home was built because from the 1950s through the 1980s, ceiling textures like popcorn ceilings often contained asbestos. These surfaces are safe as long as they stay intact, but once the removal process begins, they become hazardous materials.
So before the renovation work begins, it's vital that the ceiling is first tested for asbestos. Calling a trusted and reputable asbestos testing company is the best way to ensure the job is done safely and efficiently. At Cyclone Kleen Up, we'll inspect and test your ceilings for asbestos. If the test comes back positive, then we will schedule a removal date.
Although you are legally not required to hire a licensed company for asbestos abatement, asbestos is dangerous to inspect, test, and remove. We don't recommend removing and dealing with it yourself. Cyclone Kleen Up has the right tools and equipment to remove and dispose of the asbestos properly. We'll contain the area and remove the ceiling and dangerous material, along with anything else that could be causing the asbestos. Once we're finished, we'll dispose of the waste safely, HEPA vacuum the area, and wet-wipe the ceiling to ensure all asbestos fibers are completely gone.
After the popcorn ceiling is removed, another air sample will be taken and tested by a licensed air sampling professional to ensure that all traces of asbestos have been eliminated.
Why Cyclone Kleen Up is the Company to Call
Our Cyclone Kleen Up team in the central Colorado area has been safely removing asbestos for many years. But before each project is started, we make certain the correct permits have been pulled and the proper safety measures are in place.
If you're concerned that your Colorado home or business may contain asbestos, click here to read more about asbestos-containing materials often found in buildings. When you're ready to have an asbestos inspection and test done, contact our Cyclone Kleen Up today.
If you want more information on limiting your environmental exposure to asbestos, or if you have specific questions, contact the Agency for Toxic Substances and Disease Registry (ATSDR) at 800-CDC-INFO (800-232-4636) or TTY 888-232-6348. ATSDR's website for asbestos has more information and links to other resources.
For safe asbestos abatement and removal in Pueblo, Colorado Springs, or surrounding cities and need an asbestos inspection for your commercial or residential property, contact Cyclone Kleen Up today. They'll determine the right test for you and your needs!