How a Water Damage Claim Can be Impacted by Asbestos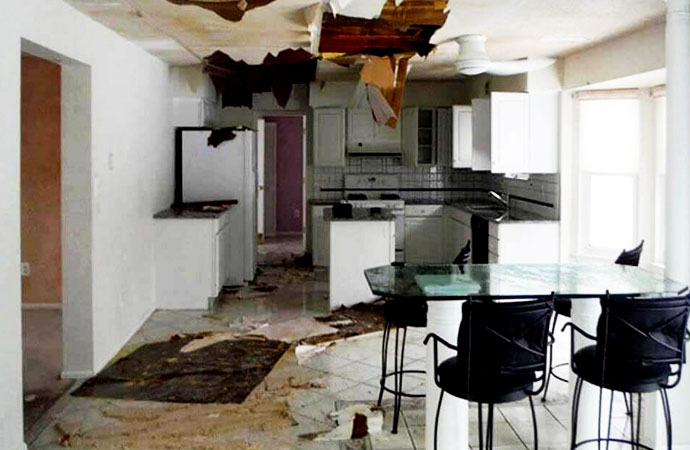 Your Colorado commercial or residential property just went through a flood. Or maybe a pipe broke or a water heater burst. Whatever the case, you need a professional water damage cleanup company on site ASAP! So you hire the closest one and they get to work.
But wait – there's a problem. The aging tile floor that was water damaged contains asbestos. Or maybe the old popcorn ceiling that needs replacing was made with asbestos. Perhaps the vermiculite insulation that was waterlogged needs to be taken out – but it, too, contains asbestos. That's when you find out that the water damage restoration company you hired is neither trained nor licensed to perform asbestos abatement. What do you do now?
If you decide to keep working with the company you hired, do they even know where to look for asbestos? Do they have any idea how to handle it? If they recognize it, will they stop work to allow a licensed asbestos removal company (like Cyclone Kleen Up) to come and properly remove it? Will they wait for your insurance company to approve the work?
Dealing With More Than One Company Creates Problems
It is very common for Cyclone Kleen Up to prepare an estimate for water damage repairs only to find that another mitigation/cleaning company disturbed the asbestos during their mitigation efforts by doing things like sawing through asbestos-containing tile. This is usually done due to a lack of knowledge and training.
But if the company you hired is able to identify a material that contains asbestos, then they'll stop work, contact the insurance company, and wait until they find a licensed contractor to properly remove the asbestos. But unfortunately, during this waiting period which may take a few days, your water damage is getting worse. The longer materials remain wet, the more they deteriorate and may need to be replaced instead of restored, making the disaster more expensive for you. On top of that, you've now given mold a foothold into your home or business that may be difficult to remove.
The article, "Asbestos: Still a Stumbling Block in Restoration and Remediation" in the August 2013 edition of R&R (Restoration & Remediation) magazine, discusses this problem that many restoration companies have. And although that article goes back a few years, the situation still has not changed.
Hire a Company That Does it All
We at Cyclone Kleen Up understand that dealing with two separate companies creates an unnecessary delay in water damage clean-up and restoration. That's why we're also trained and licensed for asbestos removal and abatement. Because we don't simply suck up water, you can count on us as your indoor environmental experts, solving all your disaster problems quickly and safely.
So, when time is of the essence, call Cyclone Kleen Up, a truly full-service mitigation company! We're available 24 / 7 for all emergency disasters, whether caused by asbestos, water, or fire, and have more than three decades of experience serving Pueblo, Colorado Springs, or Colorado communities.