How Asbestos is Safely Removed From Your Home or Business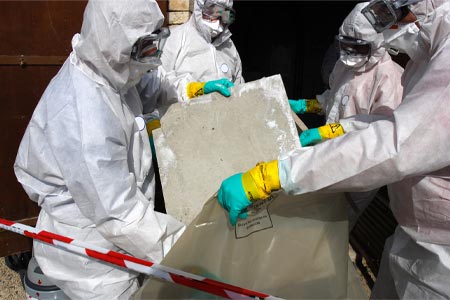 Asbestos removal can be a scary time for you if it's found in your home. But be assured that the professionals at Cyclone Kleen Up will do all they can to remove it quickly while ensuring your family will be safe. This article will outline the step-by-step process of removing any asbestos from your home or business and let you know if you can assist in the process in any way.
We'll begin by assuming your Colorado property has already been positively tested for asbestos. Once you've contracted with Cyclone Kleen Up we will bring all the necessary equipment, like plastic sheeting, duct tape, warning notices, barricades, a solid asbestos waste container, waste bags, PPE (Personal Protective Equipment), and more. We might even ask to use your garden hose.
When inspecting the affected area, our asbestos removal technicians will create a removal control plan, outlining specific methods and processes to make certain all asbestos is removed safely and successfully. This control plan is necessary for licensed asbestos removal work and typically includes the following information:
How asbestos removal will be accomplished
The procedures that will be implemented during the removal
The tools, equipment, and PPE that will be employed
Each location asbestos is found
The condition of the asbestos
Work Area Preparations For Asbestos Removal
Each work site will be carefully organized so asbestos can be safely removed. Our removal team will install signs and barriers to warn people away from the area and isolate the contamination site. We will also cover all vents and turn off HVAC systems, seal openings with plastic sheeting and duct tape, and set up negative air pressure units that will help avoid any asbestos contamination outside of the work area.
What you can do to help beforehand is to clear the contaminated areas of all personal belongings, loose items, soft furnishings, and anything else that could be in the way and possibly be contaminated with asbestos. If there are items that you aren't able to move, like heavy appliances, our asbestos removal technicians will cover and seal them with a 6-mil polyethylene sheet.
How Cyclone Kleen Up Keeps Your Property Free of Asbestos
Our Cyclone Kleen Up team works tirelessly to ensure that any asbestos fibers in your home or commercial building are safely and effectively eliminated. After their removal, we'll finish cleaning up using a HEPA vacuum and a wet wipe-down. Then the air will be tested again to ensure all of the fibers were removed.
If you want more information on limiting your environmental exposure to asbestos, or if you have specific questions, contact the Agency for Toxic Substances and Disease Registry (ATSDR) at 800-CDC-INFO (800-232-4636) or TTY 888-232-6348. ATSDR's website for asbestos has more information and links to other resources.
If you want more information on limiting your environmental exposure to asbestos, or if you have specific questions, For safe asbestos abatement and removal in Colorado Springs, Pueblo, and the surrounding area, contact Cyclone Kleen Up today!
If you live in Pueblo, Colorado Springs, or surrounding cities and need an asbestos inspection for your commercial or residential property, contact Cyclone Kleen Up today. They'll determine the right test for you and your needs!