How Many Asbestos Samples Need to be Taken?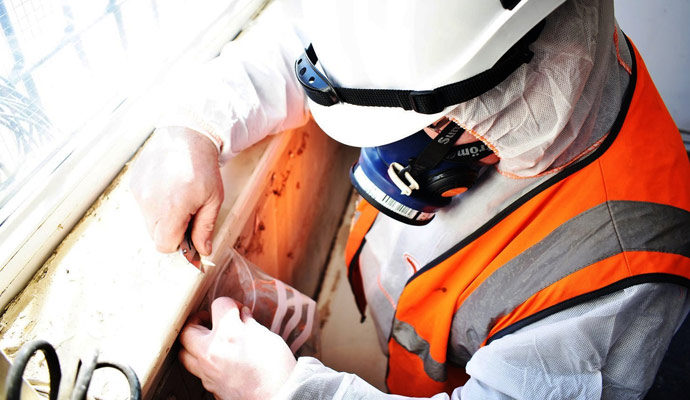 During asbestos testing and assessment, the EPA, along with OSHA and Colorado state regulations require that similar groups of suspect asbestos-containing material be cataloged. These materials may be completely different in size, shape, and color. So an asbestos tester will either gather samples from each type of material or presume that all are asbestos-containing materials.
What Products Need to be Sampled
Miscellaneous -this category can include wallboard, flooring, shingles, ceiling tile, grout, caulking, etc. Two or three samples of each similar group may be required depending on the state the project is located in.

Thermal Insulation – these are materials that are wrapped around equipment like boilers and tanks or the pipes and ducts running from them to prevent heat loss. Three samples are usually required for this category.

Surfacing Materials - these materials are sprayed or spread on surfaces for acoustical or fireproofing reasons. These can be large areas and so up to nine samples may need to be taken.
Why do Multiple Samples Need to be Taken?
Consider this comparison: When taking a bite of praline ice cream, you may not get any pralines, or you might get a few. So it is with a material containing asbestos. Because of how it's made, testers may not find asbestos in one part, but will definitely run across it in another. Additionally, depending on the material, a different kind of testing may need to be done due to state or national regulations and industry standards. One thing's for certain. If the firm doing the testing only takes one or two samples from each material, they may not be reliable.
How Long Does Asbestos Testing Take?
For some jobs, an inspection may take only a couple of hours. For bigger buildings, a few days may be necessary. During testing, the inspector will need to enter every room, hallway, stairway, etc., and may even need to make a return visit before finishing up. A detailed expert report is essential after the inspection. But don't always expect bad news. Sometimes asbestos may need to be removed; but, if the asbestos-containing material is in decent condition it's often securely handled in place.
Every Project is Different
The rules we have considered are just an outline. Every project is different and it's the job of a skilled and qualified inspector to know what the best way is to sample asbestos. Requirements may vary by state and depend on the materials being tested which an experienced professional will be aware of. It's nearly impossible to know how many samples will be required until the inspection has been finished.
Cyclone Kleen Up is your local, certified, insured, and fully-equipped professional restoration company that will inspect and remove asbestos from your commercial or residential property. For years we've been serving Colorado homeowners and commercial properties, including those in Colorado Springs, Pueblo, and the other cities throughout our Colorado service area.