How to Learn if You Live in a Floodplain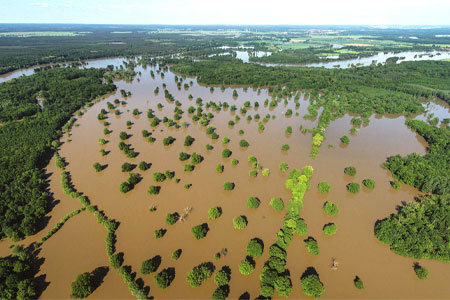 The topic of floodplains leads to many questions. Although one study estimates that up to 41 million Americans live in flood zones, many of those homeowners are unaware of it until they experience significant water damage. But is it a danger here in Colorado?
A recent Denver Post article stated that "FEMA currently designates 43,332 properties in Colorado at an elevated risk of flooding, meaning they need separate insurance policies to cover that risk. But a separate study from the First Street Foundation estimates given changes in the climate, Colorado should have about 131,245 properties listed at elevated flood risk and insured."
The Colorado Water Conservation Board within the Department of Natural Resources estimates that flood-prone areas have been identified in 267 Colorado cities and towns and all 64 counties. On their website, you will find information on flood preparedness, mitigation and resiliency, flood hazard mapping, the national flood insurance program, floodplain rules, and community resources.
What Is a Floodplain?
Floodplains are areas of low-lying ground close to natural water sources like rivers that often flood when water levels are high due to storms and heavy snowmelt. Since they're often situated level with or below a body of water, even a little water can cause flooding.  
Natural floodplains offer flood risk reduction assistance by slowing runoff and storing floodwater. Floodplains frequently include wetlands and other vital ecological areas which directly influence the quality of the local environment.
How Do I Know If You Live in a Flood Zone?
If your home sits near a body of water, you may live in a floodplain. While most problems occur around rivers and streams, lakes and ponds can also cause flooding. If you're not sure whether or not you live in a floodplain, use the FEMA Flood Map Service Center to find out if you're at risk for flooding.
What Are the Common Signs of Living in a Floodplain?
Numerous signs indicate you live in a floodplain:
Your home is within five hundred feet of a body of water
Your land is below the banks or slopes down towards your home
You often experience puddles on your property after even a little rain
Your yard is usually soggy or water-logged even days after it rains
Your home floods frequently
What are the Dangers of Living in a Flood Zone?
There are several hazards when living in a floodplain. Even if your property has never flooded, it likely will. Here are the foremost flood risks you should be aware of:
Loss of Life – While property damage is the main concern, floods cause more deaths than any other natural disaster. This is due to people underestimating the risk of floodwaters.
Property Destruction – Floodwaters cause an extreme amount of water damage, destroying personal possessions as well as flooring, cabinets, and other parts of your home.
Structural Damage – If the water sits for more than a few hours, it can damage the studs that support your home, affecting its structural integrity.
Health Risks – Floodwaters can carry mold and bacteria. Even if they don't, mold and bacteria can start growing in as little as 24 hours.
Additionally, since floodplains are usually low-lying areas, it can take days for floodwaters to finally subside. This increases the risk of water damage as well as the cost of flood cleanup.