OSHA Asbestos Requirements for Commercial Buildings
Asbestos is a highly dangerous substance, and so when it comes to commercial buildings, OSHA has a slew of regulations that deal with what are considered acceptable levels of exposure. People who work in commercial buildings built prior to 1980 could still be at risk for asbestos exposure. Unless a systematic asbestos removal process has already been performed, it probably still exists in your building's ceiling tiles, insulation, and other areas.
To ensure your employees aren't being exposed to asbestos, have your Colorado building tested by a professional testing company. They'll be able to let you know your building's level of asbestos exposure to your workers. A moderate to a high level will mean that you'll need to have the asbestos removed. The only ones who should do that work for an asbestos removal and abatement company.
OSHA Regulations for Renovating Commercial Buildings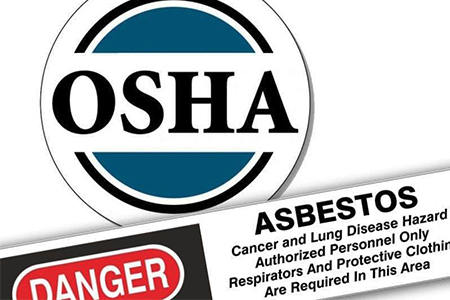 Asbestos becomes dangerous once it's been disturbed. If your business is located in an older building that needs renovations, alterations, or demolition of certain areas, then there is no way asbestos-containing building materials won't be disturbed.
Before any renovation or demolition work begins, the area needs to be tested for asbestos. Since OSHA has strict requirements about the way testing and removal should be performed, then the professional Colorado firm Cyclone Kleen Up needs to handle it. If testing confirms that asbestos is present, then steps need to be taken that will minimize asbestos exposure to all employees working in the building. Cyclone will take care of most of that by sealing off the area of the building where asbestos is being removed to prevent contamination of the rest of the structure. This is done by using polyethylene film, duct tape, and negative air pressure machines fitted with HEPA filters.
Training and Signage
Most employees are safe from exposure as long as asbestos-containing materials are left alone. But your cleaning and maintenance workforce needs to be thoroughly trained on where those materials are and the best way to handle or clean them if necessary so that asbestos particles aren't released into the air.
Proper training will teach them not to drill, cut, or engage in other activities that can mar finishes and create dust. Because there is usually a high turnover in cleaning and maintenance positions, post warning signs wherever there are asbestos materials that should be left alone.
Notification Rules
Colorado commercial buildings contain a wide array of businesses – everything from stores to hotels, apartments to restaurants, and more. Owners of these buildings are required to notify all tenants, employees, and occupants if their building contains asbestos. Before any repairs or renovations are completed in areas that could result in asbestos-containing dust and debris, occupants and employees need to be notified and asked to leave the building until the repairs are finished. Additionally, all construction workers will need to have proper protective equipment.
The cost to a person's health from asbestos exposure can be high, so keeping employees safe at work should be a top priority for building owners. If the building you own is aged and hasn't been tested for asbestos, then, by all means, schedule an inspection today. Once everyone knows where the asbestos-containing materials are, it will be easier to avoid disturbing them.
How Cyclone Kleen Up Can Help
The Cyclone Kleen Up team can test and inspect your building for asbestos and remove any that may be present. When removing asbestos we employ a thorough cleanup process that follows strict government-mandated protocols outlined by OSHA and EPA. If you're concerned that your commercial building in Colorado Springs, Penrose, Salida, Pueblo, or the surrounding area contains asbestos, contact us today to schedule your inspection.
If you're having trouble coming up with an AMP for a business located in Colorado Springs, Penrose, Salida, Pueblo or the surrounding area, let the experts here at Cyclone Kleen Up help you. We have professional and licensed asbestos testers and removers who can professionally identify asbestos at your worksite and aid you in coming up with the best AMP for your business. Get started by calling Cyclone Kleen Up today at 719-299-3887.