Fire & Water Damage Restoration in Littleton, CO
Time is of the essence when it comes to clean-up and restoration efforts following a disaster. Damage brought on by fire, water, storms, and flooding can lead to catastrophic structural damage or mold growth if proper measures are not taken to mitigate the losses.
For a reliable recovery company that comes through in your hour of need, residents of Littleton, CO, and their surrounding communities choose Cyclone Kleenup.
Cyclone Kleenup Handles Restoration & Remediation
With 31 years of unrivaled experience providing restoration and remediation services in the state of Colorado, Cyclone Kleenup has become Littleton's most dependable partner when it comes to cleaning up and restoring properties that have been damaged by natural disasters or major accidents. From our headquarters in Leadville, we proudly serve central Colorado with a service area that covers more than 100 neighborhoods and communities.
At Cyclone Kleenup, our technicians are ASHE members certified in infectious disease control and offer repair services to hospitals following fire and water damage. Cyclone Kleenup also specializes in the advanced treatment of mold and bacteria. We are also the experts to call for asbestos testing and abatement in central Colorado, having received certification from the Colorado Department of Public Health & Environment (CDPHE).
Safe & Efficient Disaster Remediation by Cyclone Kleenup
Our expertise is in restoring disaster-stricken properties, but Cyclone Kleenup also takes on other jobs that other general contractors may not. Below is a list of some of the services we offer in Littleton, CO:
Call Cyclone Kleenup Today
Our operators are ready to take your call at 719-299-3887. You may also schedule an appointment and learn more about our company by visiting our Contact Us page.
Blogs related to Littleton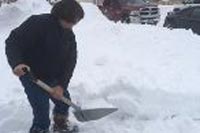 Snow Removal in Leadville, Colorado | Cyclone Kleen Up
Cyclone Kleen Up helps Leadville, CO residents with snow removal during winter storm.