Siding Damage: Harms done to sidings are mostly cosmetic, still extreme damage can cause leaks and cracks. Hail can also remove the paint and leave the wood beneath, unprotected if you do not have siding.
Water Damage: The granules on the shingles that shake free and drop off when huge hail hits your roof are more likely to cumulate in your gutter downspouts. It causes water to back up. Moreover losing shingles and shattered windows during a severe storm can also cause flooding and water damage in your house.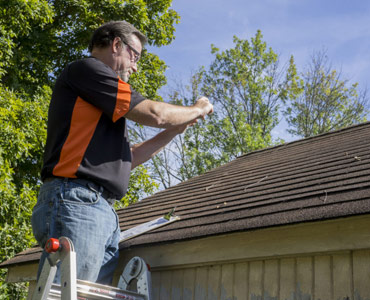 After the Storm Comes Calm
When a hailstorm causes destruction to your home or business, you can count on the certified technicians in Cyclone Kleen Up for a thorough and efficient hail damage repair and restoration. In order to start the restoration process as soon as possible contact us immediately after the incident occurs.
Why Choose Cyclone Kleen Up to Restore Your Colorado Property?
We are your local, certified, insured, and fully-equipped professional restoration company to help you fix your commercial or residential property. We offer:
Free inspection and thorough estimation
24-Hour Emergency Recovery Services
Immediate response
Trust Cyclone Kleen Up to Repair Your Hail Damaged Roof in Canon City
Within ONE HOUR, your damage will be assessed by our recovery team, and immediately required services will be provided to keep your property safe and protected.
If you are looking for hail damage restoration service please call us at 719-299-3887 or contact us using our contact form.
For years, we have been the go-to source for roof damage restoration and other types of restoration needs in Monument, Manitou Springs, Canon City, and other communities within our Colorado service area. When you need our services, give us a call at 719-299-3887 or contact us online for more information.