Storm-Damaged Roof Restoration in Colorado Springs
A major storm often comes with an abundance of destruction, whether it is hail, high winds, flying debris, snow & ice, or something else. Your roof is the first defense against any calamity, and it absorbs the most significant damages. Sometimes, the damages are minor but can lead to other issues if not addressed ASAP. If you're worried that a passing storm has damaged your roof in Leadville, Pueblo, Colorado Springs, and other cities throughout our Colorado service area, call on the experts at Cyclone Kleen Up and get the storm damage restoration services you need right away.
How a Storm Damages Your Roof
Wind Damage: A series of problems can occur due to severe wind. Flashing and shingles can be torn off, loosen, or detached by high wind. Granules on the shingles are knocked loose, causing them to clog gutter downspouts and create water back-ups. Chimneys may topple too.
Falling Debris Damage: Whether it is a tree limb, branch, or any other kind of debris, it can pierce your roof deck and cause water to rush in; and that leads to serious structural damage.
Hail Damage: A small hailstones can harm a roof by loosening shingles, causing invisible bruises on the underlayment of your roof. If you're hit with a storm and are anxious about hail damage, be sure to choose professionals with the necessary skills and expertise to restore your roof.
Snow and Ice Damage: Heavy snowpack may put excessive pressure put on rafters and the underlying structure of your roof. Flashing and masonry can get loosen up by freezing temperatures. Softening snow and ice that refreezes along the roof's edge can cause water back up and leak beneath shingles or other roofing materials. Indeed little sums of water streaming into your home or commercial building can cause great harm to the interior.
FREE ASSESSMENT
Call now or fill out the box below:
The weather conditions in our region tend to get rapidly worse, especially during the spring months. No part of your home is more vulnerable to storm-related problems than your roof. When a storm hits your home or commercial roof it may cause damages in many ways.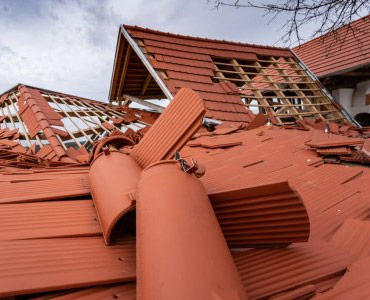 Any Type of Roof Damage Can Lead to Serious Problems for Your Home!
Any type of roof damage means your home is exposed to the weather. This can cause dangerous water leakage throughout the house. As a consequence, you might have to go through both water damage restoration and mold remediation as water leaks may lead to harmful molds and affect your home. Moreover, persistent water exposure may misshape wood and harm delicate elements of your home resulting in permanent structural issues.
Contact Cyclone Kleen Up for Roof Restoration Services in Colorado
We are a certified, professional, and fully-equipped restoration company in Colorado to help you restore your home or commercial property. We offer:
Free estimation
Thorough inspection
24-Hour Emergency Recovery Services
Rapid response
One hour is all our recovery team needs to assess the damage and provide the required services right away in order to keep your property safe and protected. For years, we have been the go-to source for roof damage restoration and other types of restoration needs in Monument, Manitou Springs, Canon City, and other communities within our Colorado service area. When you need our services, give us a call at 719-299-3887 or click here for more information.